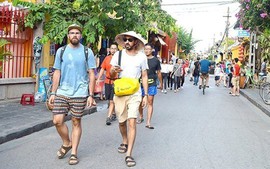 Society
29/08/2023 22:30
VGP - Viet Nam welcomed more than 7.8 million international visitors in the first eight months of 2023, equivalent to 97.5 per cent of the year's target, according to the latest report from the General Statistics Office.
Culture
11/07/2023 10:57
VGP - Viet Nam is the only Asia-Pacific country listed in Booking.com's "Mindful Voyagers" group, which is hailed as being responsible toward the environment and having a desire to support local communities.
Culture
14/01/2023 12:30
VGP - Viet Nam's tourism industry has targeted to serve about 110 million tourists in 2023, including 8 million foreign visitors.
}