Viet Nam starts second half with some improvements in its economic activity: HSBC
VGP - While the global trade tide has not staged a meaningful rebound yet, Viet Nam started the second half of this year with some stabilization in its external sector, said HSBC in its report "Viet Nam July data-Some valuable stabilization".
August 03, 2023 11:33 AM GMT+7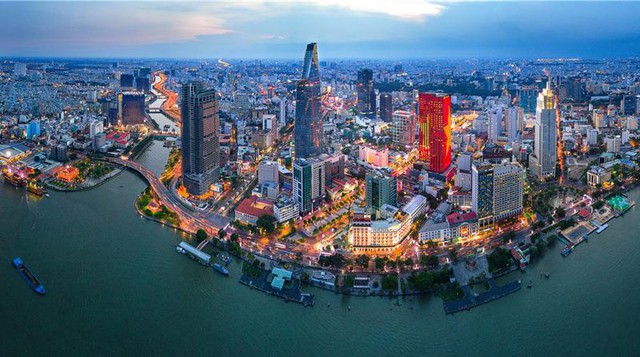 After a lacklustre GDP print of 3.7 percent in the first half, green shoots have quietly emerged. Alas, challenges are not fading, but high frequency indicators point to some positive stabilization, HSBC noted.
The biggest surprise lies on the external front. While exports did not cease to fall on a year-on-year basis, the magnitude was much smaller at 3.5 percent.
Although this was in part due to favorable base effects, the level of exports in July rose to the highest in nine months.
While major exports, including textiles/footwear and phones, continued to suffer from double-digit declines, computer and electronic components shipments surprisingly offset some weakness, jumping 32 percent year-on-year.
Granted, base effects came to the partial rescue, but signs are pointing to some valuable stabilization–especially from computer-related imports. That said, the same cannot be said for the smartphone cycle, which continues to face intensifying headwinds.
Despite still at an early stage, forward-looking PMI indicators point to some stabilization in Viet Nam's near-term trade prospects–no further deterioration is the first step before a meaningful trade rebound.
Remarkably, the bank emphasized that Viet Nam's foreign direct investment (FDI) prospects remain intact.
New FDI stood at 3 percent of GDP in the second quarter of the year, on par with that in 2022. Compared to its peers, Viet Nam still remains the second largest FDI recipient in ASEAN, measured as a percentage of GDP, just after Malaysia.
Tech giants across the world, including Infineon, LG, Foxconn, continue to announce their expansion plans in Viet Nam. All of this provides hope for Viet Nam's external sector to rebound strongly once the trade cycle turns.
Viet Nam's tourism outlook continues to be favorable
According to HSBC, outside of trade, Viet Nam's domestic services continue to act as a pillar of support.
A large part of the support was thanks to the uplift from international tourists, with mainland Chinese visitors continuing to steadily flock to the country, reaching around 45 percent of 2019's level.
For the first time in more than three years, Viet Nam, once again, has welcomed more than one million visitors in a month.
Interesting to note that the pace of Chinese visitors' recovery is the highest in Viet Nam, exceeding that in Thailand, which is a traditional market for outbound Chinese tourism in ASEAN.
This is perhaps thanks to Viet Nam's steady flight recovery with China, now standing at 53 percent of 2019's level, just after Singapore (75 percent) and Malaysia (57 percent).
In addition, with the recent policy change in visa relaxation, which is expected to be implemented from mid-August, Viet Nam's tourism outlook continues to be favorable.
Elsewhere, inflation continues to deliver some good news. Headline inflation only rose 2.1 percent year-on-year in July, well below the State Bank of Viet Nam (SBV)'s 4.5 percent inflation ceiling, thanks to continuing energy disinflation.
All in all, although the tide has not turned fully, it is positive to see Viet Nam start the second half with some improvements in its economic activity./.