Infographic: Overview of development plan for Mekong Delta Region by 2030
VGP - Deputy Prime Minister Le Van Thanh signed Decision 287/QĐ-TTg, dated February 28, 2022 on master plan for the Mekong Delta Region (MDR) in the 2021-2030 period with a vision to 2050.
June 17, 2022 9:42 PM GMT+7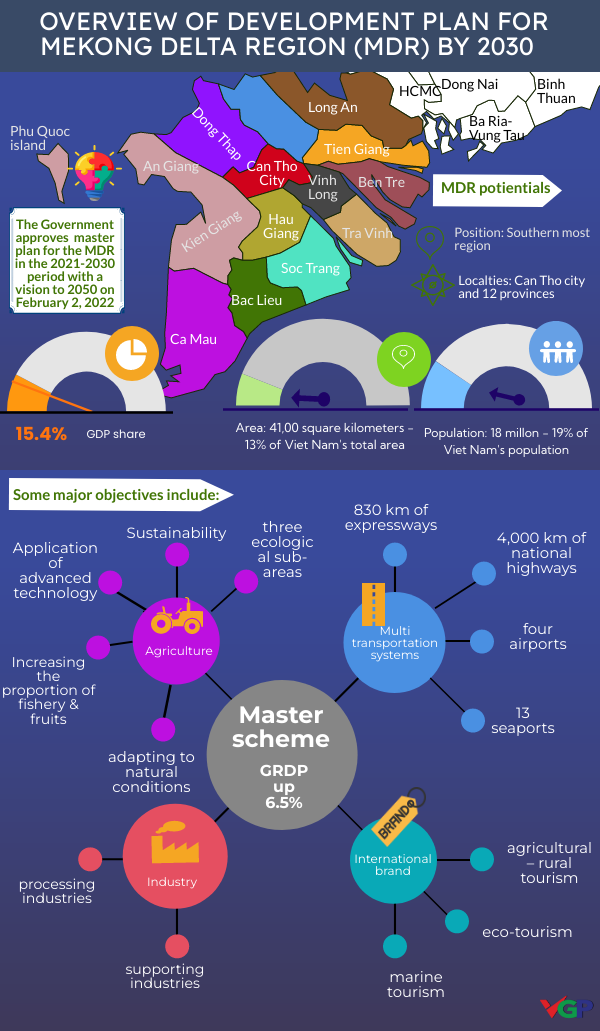 This is the first region-based development plan adopted in accordance with the Law on Planning, and will also be an important basis for localities in the Mekong Delta to develop synchronous and unified provincial planning.
The Mekong Delta is a region with a particularly important position as it is the largest hub of rice, fruit, and seafood in Viet Nam.
However, the Mekong Delta's per capita income remains lower than the national average.

The development plan targets to full tap the potential and strengths of the region and expand links between the region and Ho Chi Minh - the country's biggest economic engine - and other localities in the Southeast region.
The plan focuses on infrastructure development, which is important for the transformation of development models, focusing on transport, energy, clean water supply, irrigation and social infrastructure.
The goal is that by 2030, the Mekong Delta will become a sustainable, dynamic and highly efficient agricultural economic center of the country, region and the world.
The plan also points out the need for the development of the marine economy; tourism economy; strengthening intra-regional, inter-regional, domestic and international connections./.