Dutch Ambassador: Viet Nam sets new important step by approving Mekong Delta Regional Plan
VGP - Viet Nam has set a new important step by approving the Mekong Delta Regional Plan providing long term, cross-sectoral integrated planning and a stronger legal basis.
May 04, 2022 5:39 PM GMT+7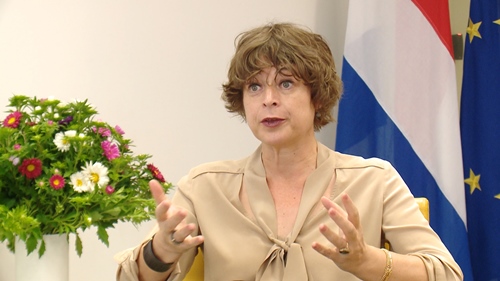 Ambassador of the Kingdom of the Netherlands to Viet Nam Elsbeth Akkerman made the above statement during a recent interview with the VGP.
Elsbeth Akkerman said the strategy is based on a simple and widely accepted premise that agriculture is the most advantageous sector in the region, and that much productive land is currently being underused relative to its potential suitability for higher value crops.

This means that a transition is needed from intensive rice into more high value crops like aquaculture and fruits and vegetables.
"Based on Dutch experiences we have advised to do that by the principle of living with nature and embrace the ecological circumstances on the one hand side and to take consumer and market demands as the leading principle on the other hand," she stated.
The challenge for the agriculture sector is to adapt to the different situation in each ecological zone. The coastal area is a saline area where farmers should think of for example sustainable shrimp farming, polyculture aquaculture and extensive clams and crabs in mangroves.
In the intermittent fresh-brackish zone a rice-shrimp system or vegetable-fruit system tolerant to salinity for example are more tolerant. And in the upper delta where fresh water is available aquaculture, fruits and rice production could be more suitable.
In all zones Dutch companies are working with Vietnamese farmers on sustainable new farming models, like sustainable shrimp, saline agriculture and fruit production.
Adapting agricultural systems into sustainable production systems
How to adapt the current agricultural systems into sustainable production systems working with their natural environment and add value to the products is indeed the major challenge, according to the Dutch diplomat.
Some Dutch companies for example are working on sustainable pangasius and shrimp production by reducing antibiotics and ground water use as well as better waste water management.
Other Dutch companies are working on saline agriculture and crops like shallots that are more resistant to droughts.
"In my opinion, it is important to put the private sector in the 'driver seat' for further innovation that should of course be facilitated the government and research institutes," said Elsbeth Akkerman.
The private sector is the drivers for change. They also know what the market demands and what consumers want to eat and drink.
The Netherlands has supported the Ministry of Agriculture and Rural Development (MARD) to develop an Agro Transformation Program to coordinate and boost this process together with the Mekong provinces and work with a multi-stakeholder approach including the private sector, science, civil society and the international organizations and bilateral partners in strategizing, policy development and implementation.
The Netherlands is currently working on a so-called 'science policy interface' for this agricultural transformation with experts on agriculture and water to provide evidence based policy advise and to help designing the right innovation agenda for the private sector.
Role of transport, logistics, and agro-business hubs
The development of transport, logistics and agro-business hubs, including knowledge and processing as well as agro logistics, is crucial to enable products to arrive safely in cities for sale and consumption or in ports for export, said Elsbeth Akkerman.

Agro-industrial hubs are needed to collect and consolidate agriculture and aquaculture products locally on a sub-regional basis, and add value through developing processing hubs located in provincial centers. Ideally these hubs are combined with services and other industries.
And when it comes to transport and (agro)logistics phased improvement of roads, inland water transport (IWT) and ports, as well as regional logistics are needed, to support the processing hubs and to improve overall accessibility within the region to benefit other sectors.
This development has also been experienced in Northwest Europe (the Netherlands, Belgium and the western part of Germany), a region that is quite similar to the Mekong- Ho Chi Minh City region.
Both regions are deltas with a growing population that is rapidly urbanizing. Both regions are major agro-food exporters with the Netherlands as the second largest exporter of agricultural products of the world.
Both Deltas are very vulnerable and sensitive to effects of climate change and both face the challenge of an agricultural and livelihoods transition in the rural areas.
Significant investments in further sustainable development required
The Netherlands and the Mekong Delta are both vulnerable deltas with many similar challenges. The Dutch experiences with these delta challenges have been valuable input for Viet Nam's vision and direction today to make the Delta resilient for the future.
Viet Nam has requested the Netherlands in the past to develop a Mekong Delta Plan. This plan was approved in 2013 and endorsed by the Vietnamese Government. It has been the basis for a World Bank loan of US$300 million and major inspiration for the current Vietnamese Resolution 120 towards a sustainable delta.
This year, Viet Nam has set a new important step by approving the Mekong Delta Integrated master plan providing long term, cross-sectoral integrated planning and a stronger legal basis. In the development of the master plan also Dutch consultants were involved.
But also other important studies and projects supported by the Netherlands contributed to new targets set in the master plan, like the reduction of groundwater usage and sand mining, but also embracing flood-based aquaculture in upper delta retention areas, water infiltration pilots for areas dealing with drought and salinity.
The Memorandum of Understanding signed by the Vietnamese and Dutch Prime Ministers in 2019 on the agricultural transformation program that has supported MARD with developing a strong coordination mechanism to boost the transformation from rice to high value crops like aquaculture and fruits.
So far the Netherlands has invested over US$50 million on knowledge projects, investment support and Public Private Partnership (demo's, pilots etc.) mainly in the field of climate change, agriculture and water, including sustainable aquaculture, mangroves, saline agriculture and tropical fruits.
In addition, the Dutch private sector has done significant investments in the further sustainable development of the Mekong Delta.
The Netherlands is committed to remain the strategic and business partner to further implement the integrated master plan.
With both Strategic Partnership Arrangement on Water Management and Climate Change and on Sustainable Agriculture and Food Security the Netherlands is well positioned to work together with Viet Nam on integrated solutions.
This means both countries continue working on the food system transformation with the development of sustainable value chains in aquaculture, saline agriculture, fruit and vegetables, sustainable livestock etc. with a strong link to the water challenges.
This also includes nature-based solutions through mangrove reforestation in combination with for example crab or clam production - important for biodiversity, carbon storage and coastal protection.
The establishment of agro-business hubs will be an important element in the master plan for collecting and consolidating agriculture and aquaculture products locally and add value through developing processing and technology hubs also with services and other industries.
With its experiences all around the world on the design and development of such agro-business hubs, the Netherlands will also continue working on this important topic.
Likewise for logistics and transport, it is important to bring high value products efficient and safe to the main markets and ports. The Netherlands is eager to continue the cooperation on port development, cold chain development, storage capacity as well as inland waterways.
To conclude of course water management will remain core in our collaboration with Viet Nam for the protection of the important freshwater zones and coastal areas, to work on improved water quality (especially in relation to agriculture and aquaculture), climate change adaptation and the management of natural disaster risks./.