Ha Noi's cost of living highest in Viet Nam
VGP - Ha Noi was the most expensive city nationwide in the first half of 2022, followed by Quang Ninh province, Da Nang, Ho Chi Minh City, and Hai Phong, according to the Spatial Cost of Living Index (SCOLI).
July 20, 2022 3:25 PM GMT+7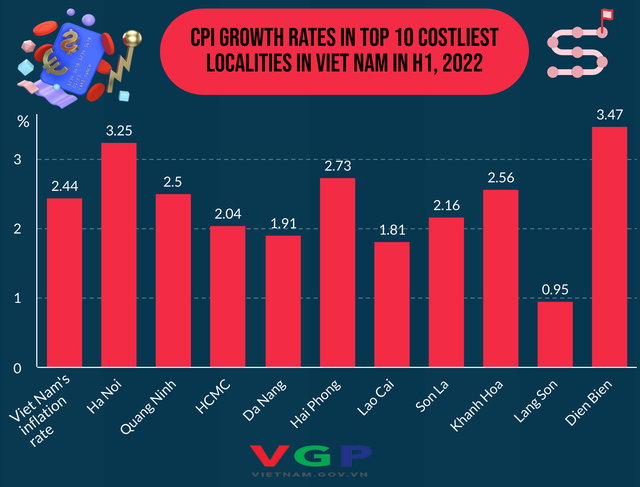 Specifically, Ha Noi's SCOLI was 100 percent, securing its top position as the most expensive locality in Viet Nam.
In June, Ha Noi's CPI picked up 0.7 percent against the previous month, up 3.15 percent in comparison with last December and 4.31 percent against the same period last year.

On average, in the first half of 2022, the local infection rate jumped 3.25 percent against that in the same period last year.
Quang Ninh ranked second by scoring 99.5 index points. The local CPI also went up 2.5 percent against the same period last year.
The third place belonged to the country's biggest metropolis Ho Chi Minh City.
The central coastal city of Da Nang, frequently hailed as the most liveable in Viet Nam, came fourth in term of cost of living.
The northern seaport city of Hai Phong ranked fifth with SCOLI of 95.58 index points.
The SCOLI is calculated based on a range of prices covering everything from food and beverage, tobacco and clothing through to electricity, medicine and entertainment.
The SCOLI index serves to make socio-economic development policies, and evaluate the results of the implementation of policies on hunger eradication and poverty reduction, hardship allowances, and wage subsidies./.