Viet Nam ready for Cambodian 32nd SEA Games
VGP — Deputy Prime Minister Le Minh Khai has asked the Viet Nam Team to grab high results and be the country ambassadors at the 32nd Southeast Asian (SEA) Games in May in Cambodia.
April 20, 2023 7:34 PM GMT+7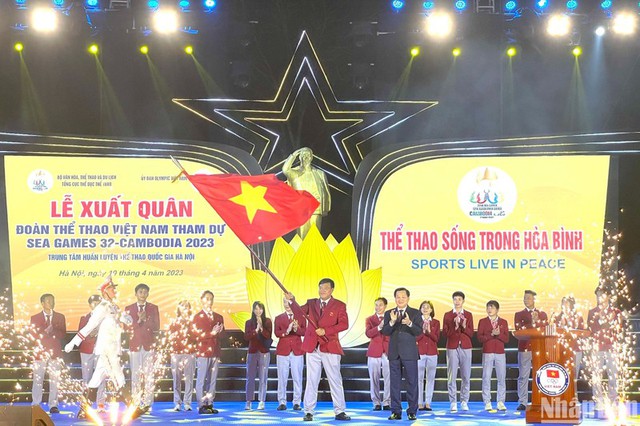 A strong 1003-member contingent gathers 702 athletes, 189 coaches, 10 experts, 31 doctors and other officials and staff. They will compete in 31 sports in a total of 48 available in Cambodia which hosts the regional sport meet for the first time in history.
The team sets a target of winning from 90 to 120 gold medals to finish in the overall ranking's top three.
Olympic sports would be the main focus of the team in this SEA Games and the men's and women's football are asked to maintain on top of the ASEAN region.
"SEA Games is not only a sport event where the regional athletes express their talents and grab achievement but also an opportunity for people to show the solidarity, friendship and discover cultures of different countries," said Deputy Prime Minister Le.
He believed that in Phnom Penh, Vietnamese athletes would not have as many advantages as in the 31st Games. But being one of the leading teams in the region with high ability and serious preparation, Viet Nam could definitely achieve the goals and do even better job.
"All members need to be united, overcome difficulties and follow regulations. You should try their best to complete your tasks. You are asked to compete with creativity, honesty and fair-play spirit for highest results which would lift Viet Nam's sport to a new height. Vietnamese competitors must respect all competitions' rules and cultural traditions of other participating countries.
"Each member of the team should be an ambassador to spread the beauty of the country, the people and culture to international friends," he said.
The Deputy Prime Minister presented the national flag to Viet Nam's Chief-de-mission Dang Ha Viet and wished the team to have success.
Viet, who is director of the Viet Nam Sports Administration, promised that under his leadership, athletes would work hard and compete hard to bring home valuable medals.
"Viet Nam Team is ready. Athletes are ready. We understand our mission -- winning for the pride of the nation and people," said Dang.
On behalf of athletes, gymnast Dinh Phuong Thanh made an oath, saying: "Vietnamese sportsmen participating in the 32nd SEA Games would comply with the regulations of each sport, the rules set out by the organisers. We will compete with the spirit of solidarity and nobility, striving to achieve high achievements for the Vietnamese sports delegation".
The 32nd Games will be held on May 5-17 in Phnom Penh and four other localities. There will be 48 sports including the Olympic, regional and Cambodian traditional sports.
The host will receive more than 12,400 participants from all 11 regional countries.
Entrance is free for supporters in all sports while TV broadcasting right is fee for all countries' media. Cambodia also provides free accommodation and food for delegates.
The national flag ceremony is scheduled on May 3. The opening ceremony will be two days later.
The men's football will be organised first on April 29.
The U22 football team will leave for Cambodia on April 26 to begin the title defending campaign. Their first match against Laos in Group B will be on April 29.
The main part of the Viet Nam delegation will depart on May 3.
Viet Nam secured 205 golds, the most successful result ever, to win the top place at the previous Games. Thailand, with 92 golds, and Indonesia with 69, sat second and third, respectively./.