Viet Nam is a successful example in linking economic development and culture: UNESCO Director-General
VGP - Viet Nam is a successful example in linking economic development and culture, said UNESCO Director-General Audrey Azoulay during her meeting with Foreign Minister Bui Thanh Son in Paris, France, on June 5.
June 06, 2023 2:53 PM GMT+7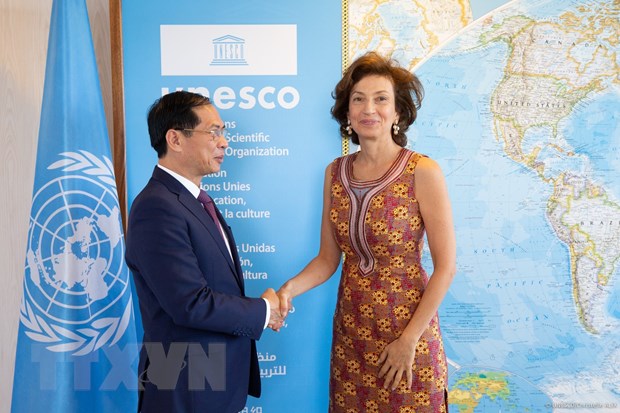 Audrey Azoulay noted that Viet Nam is always a responsible member and among leading nations in effectively launching programs and activities of UNESCO.
She spoke highly of crucial and effective contributions of Viet Nam in the organization's common works as the nation has been elected as a member of the Executive Board of UNESCO for 2021-2025, Vice Chair of the UNESCO Intergovernmental Committee of the 2005 Convention on the Protection and Promotion of the Diversity of Cultural Expressions for the 2021-2025 tenure; and member of the UNESCO Inter-Governmental Committee for Safeguarding of the Intangible Cultural Heritage.
UNESCO will continue supporting Viet Nam in fields of education, culture, science, information and communications, she stated, pledging to conserve and promote heritage values and sustainable development of biosphere reserves in Viet Nam.
The organization commits to assisting Viet Nam in developing and promoting heritage documents as well as supporting the preservation and promotion of the value of world heritages registered by UNESCO, including the overall project of preserving, embellishing and promoting the value of the Imperial Citadel of Thang Long–Ha Noi, she said.
For his side, Bui underscored that Viet Nam will continue actively and responsibly taking part in and fulfilling its international commitments to make more substantive and effective contributions to the common work of UNESCO.
Viet Nam will run for a seat at the UNESCO World Heritage Committee in 2023-2027 to join hands with other nations to perfect policies and launch measures to protect world cultural and natural heritages, he said.
He recommended UNESCO actively support Viet Nam in its integration and development process via specific activities in such areas as culture, education, sustainable development, climate change adaption, science-technology, sustainable water management and promotion of heritage values./.