UNESCO helps promote gender equality in ethnic minority areas
VGP - The announcement ceremony of phase II of the project "We are ABLE – Promoting Gender Equality and Girls' Education for Children in Ethnic Minority areas of Viet Nam" was held in Ha Noi on March 28.
March 28, 2023 7:41 PM GMT+7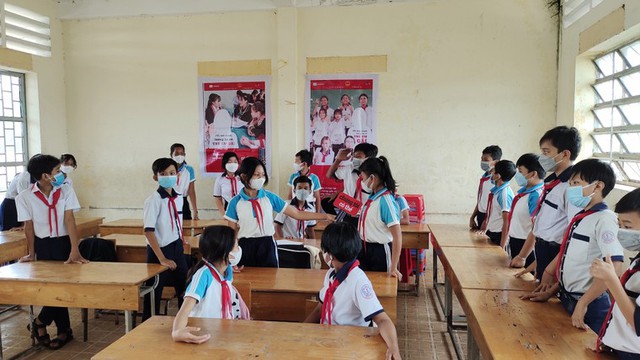 The event was organized by the UNESCO Office in Viet Nam, in collaboration with the Department of Teachers and Educational Administrators of the Ministry of Education and Training, the Ho Chi Minh Communist Youth Union and CJ Group.
Phase I of the project "We are ABLE", implemented from 2019-2022, targeted 12 districts in three provinces: Ha Giang, Ninh Thuan, and Soc Trang. The project increased ethnic minority girls' access and retention in schools and ensured better employment opportunities for ethnic minority women.
Phase I of the project reached 16,296 students (including 8,021 girls). Across the 24 project schools, among ethnic minority learners, enrolment rates increased from 62 percent to 67 percent, drop-out rates dropped from 3.8 percent to 2.9 percent, and transition rates to upper-secondary rose from 69.7 percent to 76.7 percent.
Meanwhile, 2,136 teachers and educational administrators were trained on gender-responsive school counselling, and thousands more will be reached through the national roll-out of the online course.
Furthermore,120 ethnic minority women and youth were empowered with entrepreneurship training and continue to be supported through the Commune's Women's Union.
Phase II of the "We are ABLE" project will be rolled out in Cao Bang, Kon Tum and Ninh Thuan provinces, aiming to empower ethnic minority youth, especially girls and young women, in boarding secondary schools and neighboring communities to overcome stereotypes and to voice and act on their dreams, hopes and aspirations in education.
Phase II will build skills and platforms and create an enabling environment for student-led communication and advocacy and strengthen Government commitment to education for ethnic minority children and youth, especially girls.
Addressing the event, Ms. Justine Sass, Chief of the Section of Education for Inclusion and Gender Equality of UNESCO Headquarters in Paris, said that education can be a true source of empowerment when it addresses the gender-based barriers, stigma and discrimination that hold learners back from fulfilling their right to education and future life, work and leadership opportunities.
"We must harness education's power to unlock the potential of learners in all of their diversity and transform educational institutions to achieve just, equal and inclusive societies", she shared.
The project is expected to contribute to the Vietnamese Government's new 10-year Education Development Strategic Plan, the Strategy for Ethnic Minority Development, and the national commitment to the achievement of the Sustainable Development Goals, especially Goal 4 on Education and Goal 5 on gender equality, said UNESCO Representative to Viet Nam Christian Manhart at the event./.