Viet Nam is a role model in heritage conservation and promotion: UNESCO official
VGP - Viet Nam is a role model in heritage conservation and promotion, emphasized Director of the UNESCO World Heritage Centre Lazare Eloundou Assomo during his meeting with Foreign Minister Bui Thanh Son in Ha Noi on March 27.
March 28, 2023 3:29 PM GMT+7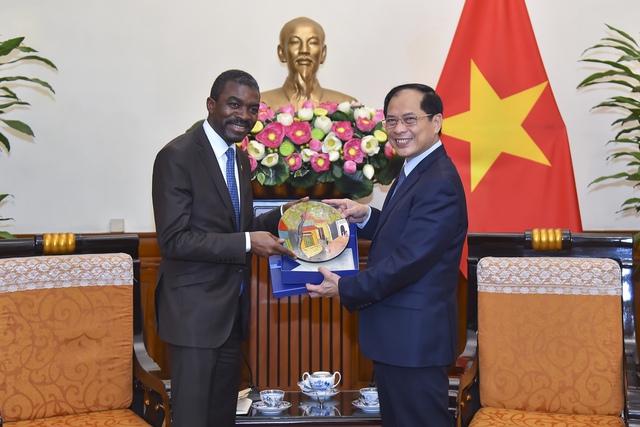 Assomo lauded Viet Nam for its success in managing, conserving and promoting world heritage values.
He spoke highly of the nation's measures to balance and harmonize the protection and development of heritages.
Viet Nam also attaches importance to preserving material heritage in tandem with promoting the intangible value of heritages, he said.
The UNESCO World Heritage Centre will work together with and assists Viet Nam in protecting and upholding world's heritages, stated the UNESCO official.

He committed to taking into consideration Viet Nam's world heritage nomination documents in the near future, providing consultations for and helping the country manage, conserve and promote its eight global heritage sites.
Assomo voiced his support for Viet Nam's bid for a seat in the World Heritage Committee in the 2023-2027 tenure.
For his part, Bui underlined that Viet Nam is always an active and responsible member of the UNESCO.
The nation has made contributions to crucial mechanisms of the organization that the country has joined such as the Executive Board, the Intergovernmental Committee for the Safeguarding of Intangible Cultural Heritage and the Convention for the Protection and Promotion of the Diversity of Cultural Expressions, he noted.
Viet Nam always attaches importance to culture, considering it a spiritual foundation of the society, a target and momentum of national development, Bui stressed.
He appreciated assistance of the center for recognition, protection and promotion of Viet Nam's national and cultural heritages./.