UNESCO Representative: Viet Nam succeeds in connecting tangible with intangible cultural heritage
VGP - Viet Nam has outstanding culture and natural sites and the country is successful in connecting tangible with intangible cultural heritage, highlighted UNESCO Representative in Viet Nam Christian Manhart.
January 26, 2023 9:54 AM GMT+7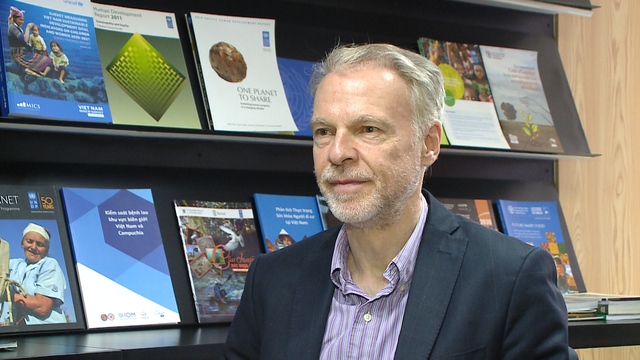 In a recent interview with the VGP, Christian Manhart said that the tangible cultural heritage in Viet Nam has a very good connection still with the intangible heritage which are the practices, the music, the dance, beliefs and healing methods.
Regarding factors that make Viet Nam's tourism competitive, the UNESCO Representative noted that the nation is home to eight World Heritage sites and 14 Intangible Cultural Heritages.
Vietnamese government is fully aware of the value of world heritage sites for economic and social development and has made a lot of efforts to promote culture-based tourism while preserving these World heritage sites.
This is quite rare, he said, adding that not many countries in the world which have understood this so well and promoted it so well.
According to Christian Manhart, he has several favorite tourist spots in Viet Nam as he has travelled quite a lot over the recent year in the country.
"I was very impressed by the Imperial City of Hue, the Imperial Palace and the Imperial tombs as well as how it is preserved and constructed because it was quite heavily destroyed during the war. These are really highlights and they are therefore also on the world heritage list", he said.
For the cultural sites, he was very impressed by the Phong Nha National Park, which is also a World Heritage Site and he had the opportunity, to trek within the park, to go on the steep mountains, up and down and also through some of the caves.
"I also visited Son Doong, the largest cave in Asia or maybe even the world but some smaller caves which are already very large and we even had the opportunity to swim in the rivers inside the cave. So I think this was a lifetime experience trekking in Phong Nha National Park", told the UNESCO Representative.
Sustainable approach in tourism
The UNESCO Representative supposed that Vietnamese main tourist destinations face two major challenges: how to harmonize nature and culture preservation with development and how to mitigate the accelerating impacts of climate change. Sustainable approach in tourism is the answer to this challenge.
Cultural heritage and tourism bring lots of benefits for economic development, such as job creation, training opportunities for youth and considerable, business opportunities, or income generation.
However, there are also risks such as overexploitation of sites and mass tourism which can cause environmental degradation, uncontrolled and unplanned infrastructure building, displacement of local communities and with that the annihilation of attractiveness for tourists and loss of tourism potential.
Besides, accelerating impact of climate change such as floodings, extreme weather, costal erosion pose additional challenges to the recovery of the tourism industry.
From March 2022, Viet Nam has officially opened to domestic and international tourists. There is a certain recovery mostly domestic tourists, however, internationals coming slowly back again.
In addition, after two years disruption, many high-quality workers in the industry were forced to switch to other jobs, also the financial capacity of many travel businesses has exhausted.
One measure to encourage the development of international tourism is that the nation should facilitate the visa procedures for tourists because before COVID-19 the tourist could get a three-month visa.
At present, they get only one month which is not extendable and it is really cumbersome for the people when they want to extend, they have to go out of the country. It would be beneficial to revise the regulations, give longer visas for foreign tourists and make the visa procedures a little bit simpler and easier.


UNESCO Representative in Viet Nam Christian Manhart talks about factors that make Viet Nam's tourism competitive
Creating synergies between public and private initiatives
The recovery process requires balancing tourism development and natural and cultural heritage preservation, emphasized Christian Manhart.
Therefore, Viet Nam should develop new innovative and sustainable tourism products that reflect the unique traditions and cultural practices of Viet Nam.
Besides, the country needs to put local communities at the heart of tourism management. Communities are a main attraction and should also be main beneficiaries and have a leading role in tourism management.
This should lead to create favorable conditions for safeguarding intangible cultural heritage, as well as improving living and working conditions of the local inhabitants
Christian Manhart emphasized the significance of creating synergies between public and private initiatives and promoting community participation, for better coordination.
Capacity building programs to enhance quality of the tourism workforce is necessary, he said, stressing the need to develop community-centered tourism initiatives that actively engage practitioners of local and traditional knowledge.
We are currently implementing a project for inclusive community development in response to COVID. For example, in Hoi An, a World Cultural Heritage in the central province of Quang Nam, the UNESCO is engaging stakeholders to promote culturally based green tourism.
This model aims to encourage businesses and tourists to comply with sustainable practices and respect the authenticity of the local culture and nature. UNESCO observes the positive impact that both, local people and visitors tend to respect the cultural properties and preserve the design and landscape of the heritage sites.
The UNESCO has also provided training for better business management for local women in the World Heritage Site Trang An Tourism Complex in the northern province of Ninh Binh.
So the women, who do the rowing of the boats for the tourists who visit the site, can market themselves better, market their garden vegetables or other handicrafts products.
UNESCO stands ready to continue supporting government and private sector in further strengthening sustainable tourism, he pledged.