UNDP vows to help Viet Nam promote green, circular, climate-resilient economy
VGP - UNDP remains deeply committed to supporting the Government of Viet Nam, the private sector, and civil society in ensuring the planning for climate change adaptation, mitigation, and environmental policies aligned with human rights standards.
August 24, 2022 8:33 PM GMT+7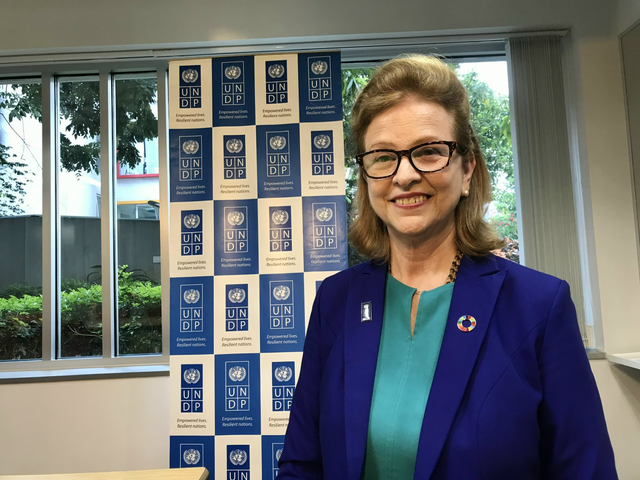 UNDP Resident Representative in Viet Nam Caitlin Wiesen made that above statement during a recent interview with VGP.
She congratulated the Vietnamese Government on the adoption of the National Climate Change Strategy to 2050, which provides a clear framework for achieving the net zero emissions target Viet Nam committed to at the COP26.
Viet Nam also adopted the Green Growth Strategy and its implementation plan and is updating the Nationally Determined Contributions (NDCs) for submission at the COP27, she said, adding that UNDP is happy to provide technical support to these crucial policies.
The Prime Minister also enhanced governance for climate change through setting up the Steering Committee for implementation of Viet Nam's commitments at the COP26 and requesting all concerned sectors to align sectoral strategies and plan with the net zero emission target, noted Caitlin Wiesen.
At the COP26, Prime Minister Pham Minh Chinh highlighted the need for transitioning the development model towards a green, circular, sustainable, inclusive, and humanistic economy.
Caitlin Wiesen also commended the Government of Viet Nam, particularly the Ministry of Foreign Affairs on the strong leadership on climate change and human rights, evidenced the adoption of a new resolution on climate change and human rights at the 50th session of the UN Human Rights Council in Geneva, initiated by Viet Nam with Bangladesh and the Philippines.
Viet Nam to benefit from "Green Doi Moi"
According to the UNDP Resident Representative, Viet Nam's commitment to net-zero emissions by 2050 is not only about the 'what' but the 'how', which must be an inclusive and participatory way that leaves no one behind.
Businesses and the private sector must also be included to play a significant role in boosting green investments.
She emphasized that Viet Nam would benefit from a "Green Doi Moi" as now, more than ever, the country needs a trajectory that sustains and regenerates the natural capital on which people, communities, and the economy depend.
The "Green Doi Moi" will help bring together all key parties, including the government, company owners, researchers, and farmers, and all citizens to accelerate actions, with a special focus on a Just Energy Transition, which enhances renewable energy generation, improve energy efficiency, and protect workers and the vulnerable.
In doing Just Energy Transition, Viet Nam needs to provide mechanisms and support for workers employed in highly polluting industries to have sufficient skills to take on jobs in new and clean industries.
This would reduce the pollution burden on the poor and foster the emergence of sectors such as secondary material markets and digital service industries that provide decent work.
Given new environmental export restrictions, such as border carbon taxes, are likely to be faced by Vietnamese businesses and their products, the government must assess and analyze potential impacts and support domestic businesses to better understand, plan for, and restructure their investments towards green, resilient development.
This will help reduce future risks and take advantage of market access opportunities for sustainably produced goods.
The government plays a vital role in developing the roadmap, providing guidance and investment, and implementing solutions such as a circular economy, less natural resource use, and sustainable production methods.
It is estimated that Viet Nam will require US$330-370 billion to achieve net-zero emissions by 2050. This considerable sum will need public and private finance from national and international sources.
Viet Nam should adopt an innovative and dedicated climate finance strategy to enable green financing flows from all sources of investments and development.
The financial architecture and innovative schemes should help to draw in and generate green financing, such as an emission trading system, a carbon market, and green bonds.
Caitlin Wiesen stressed the significance of modernizing the electricity grid to redistribute power from surplus to deficit regions and deliver power efficiently within regions as well as increasing investments in the storage capacity of renewable energy to store surplus energy.
Meanwhile, by empowering youth to champion climate knowledge and technology and to lead green innovations and resilient enterprises, young people may be a driving force for a "Green Doi Moi".
UNDP stands ready to support Viet Nam in its next transitions
Besides providing technical support to the formulation of progressive legal framework, strategies and policies, and in line with the government's resilience-building agenda, UNDP has actively supported local communities with transformational adaptation projects where co-benefits of climate actions are optimal, emphasized Caitlin Wiesen.
More than 25 percent of Vietnamese population are living in 28 coastal provinces among the 3,260 km coastal line of Viet Nam, and they are regularly exposure to natural disaster, extreme weather events and climate change, said Caitlin Wiesen.
At least 110,000 resilient households are required in these coastal provinces, according to a recent report conducted by UNDP and the Ministry of Construction.
With financial support from Green Climate Fund (GCF), the Government of Viet Nam and UNDP have constructed more than 4,000 resilient homes in five coastal provinces.
The GCF-funded coastal resilience project's resilient homes withstood record-setting storms and floods in 2020. Therefore, it is necessary to duplicate and scale up these models across the coastal areas of Viet Nam.
This work, which benefits people on the ground, needs to be further supported and financed, she said, asserting that UNDP will continue to support the mobilization of financial support to build the resilience of the local communities.
Besides, Viet Nam has made significant efforts in increasing forest coverage over the past years, and the coverage has reached more than 41 percent of the total land.
It is crucial to continue increase and maintain forest coverage, but more importantly to improve quality of the forest and keep natural and native forest which help absorb majority of the carbon and provide habitats for biodiversity.
Mangroves are among the most effective nature-based solutions. They are effective carbon sinks, three to four times more effective at storing carbon than rainforests.
They also contribute to biodiversity preservation and save lives, livelihoods, and infrastructure by acting as a buffer to the land mass from tidal surges, cyclonic storms, and high tides. Additional sustainable livelihoods they provide include aquaculture and beekeeping.
With GCF finance, the UNDP is planting and regenerating 4,000 ha of coastal mangrove.
This work, which benefits people on the ground, needs to be further supported and financed. UNDP will continue to support the mobilization of financial support to build the resilience of the local communities.
UNDP has mobilized energy policy and technical experts, is undertaking studies on green-hydrogen and carbon capture, storage, and use, and providing training on and transferring models to the Ministry of Natural Resources and Environment and the Institute of Energy, under the Ministry of Industry and Trade.
"We are working with Ministry of Transport and selected provincial authorities to promote the green transportation in Viet Nam", stated the UNDP Resident Representative.
The UNDP stands ready to support the Government of Viet Nam in its next transitions to a green, carbon neutral, circular, and climate-resilient economy where no one is left behind, she added. /.