UNDP Resident Representative: Viet Nam to benefit from "Green Doi Moi"
VGP - Viet Nam would benefit from a "Green Doi Moi", as now, more than ever, the country needs a trajectory that sustains and regenerates the natural capital on which people, communities, and the economy depend.
August 04, 2022 7:20 PM GMT+7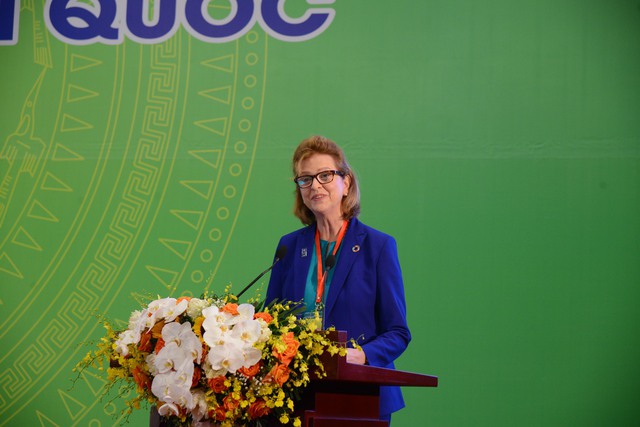 UNDP Viet Nam Resident Representative Caitlin Wiesen made that statement while delivering her remarks at Viet Nam's Fifth National Environment Conference held in Ha Noi on August 4.
Caitlin Wiesen congratulated the Government of Viet Nam and the Ministry of Natural Resources and Environment for setting clear dual growth goals of becoming a high-income country by 2045 and achieving carbon neutrality by 2050.
Reducing greenhouse gas emissions to net zero in less than thirty years may sound like a daunting task, particularly as the country is simultaneously striving to become a high-income country by 2045. Yet, in the past, Viet Nam has demonstrated its ability to achieve remarkable results over similar time spans.
For example, the economic policies instituted as part of 'Doi Moi' lifted 40 million people out of poverty in less than two decades. More recently and remarkably Viet Nam leapt in a matter of a few years to become a leader in South East Asia in solar energy.
Six priority actions for Viet Nam to reach net-zero objective
To achieve Viet Nam's ambitious net-zero objective, the UNDP Resident Representative proposed six priority actions to propel a new mission for a "Green Doi Moi".
Firstly, stronger climate legislation is needed to direct an economy-wide transformation toward national net-zero targets, recommended Caitlin Wiesen.
She stressed the importance of a comprehensive climate law that would enable breakthrough innovations, and avoid unnecessary policy overlaps.
At the same time, it is critical to continue to make climate information services accessible to all people, especially those who bear the burden of climate impacts.
Secondly, to deliver on commitments for a Just Energy Transition, it is vitally important to simultaneously accelerate renewable energy generation, improve energy efficiency, and protect workers and the vulnerable.
Viet Nam is endowed with enormous potential for renewable energy growth including enviable wind power potential, particularly for offshore wind, with more than 3,200 km of coastline.
The country became a leading country in Asia in renewable energy production in the short span of for four years (from 2018-2021) and this is clearly right direction for moving forward.
The Power Development Plan No. 8 with greater ambitions for renewable energy and less dependence on coal power would be a promising start, which should be approved as soon as possible to guide and crowd in green investments.
Here, accelerating marine spatial planning is key to unlock the huge potential of marine renewable energy in ways that are sustainable, noted Caitlin Wiesen.
Thirdly, Viet Nam needs an innovative and dedicated climate finance strategy to enable green financing flows from all sources of investments and development.
It is estimated that Viet Nam will require US$ 330-370 billion to achieve net-zero emissions by 2050. This considerable sum will require both public and private finance from national and international sources.
This includes foreign direct investment (FDI) and especially financing from the domestic private sector which plays an essential role in supporting the achievement of this target.
Developing new financial schemes and facilities to attract and generate green finance, for example emission trading system, carbon market, green bonds will be critical.
Fourthly, a more systemic and cohesive circular economy framework and approach to support low carbon and climate resilient economic development is necessary.
The National Action Plan on Circular Economy should soon be in place to guide circular economy actions nationwide, especially for sustainable production and consumption. Accelerating actions and measures on plastic manufacture, consumption and recycling is also strongly recommended.
In 2019, Viet Nam was one of the first countries in the world to join the Global Plastic Action Partnership, an initiative hosted by the World Economic Forum.
Viet Nam is also one of just four countries globally to have already established a National Plastic Action Partnership (NPAP), which is led by the Ministry of Natural Resources and Environment.
UNDP will work closely with national and international members of NPAP and other stakeholders to catalyze and accelerate the plastic circular economy across key sectors, she emphasized.
Fifthly, nature-based solutions support a sustainable pathway for Viet Nam. Nature-based solutions offer promising benefits for Viet Nam including, among others, enhanced water and food security, reduced impacts of disasters and climate change, and nature-based jobs and livelihoods.
Lastly, Viet Nam needs to strive for an inclusive transition that puts 'people' and social equity considerations at the center of all policies.
Delivering an inclusive transition will take maximizing positive socio-economic impacts while ensuring equitable benefits, conserving natural resource, and introducing key safeguard measures to protect local communities and workers from adverse effects as moving towards the net-zero target.
As always, UNDP and the UN stand ready to support the Government of Viet Nam in its next transitions to a green, carbon neutral, circular and climate resilient economy where no one is left behind, reiterated Caitlin Wiesen.