UNDP Resident Representative: Circular economy is economic opportunity for Viet Nam
VGP - Circular economy is an economic opportunity for Viet Nam and investing in governance systems, developing strong institutions and policies, fostering sustainable business and bypassing pollutive industries will help Viet Nam rebound to the green economy of the future.
June 28, 2022 6:24 PM GMT+7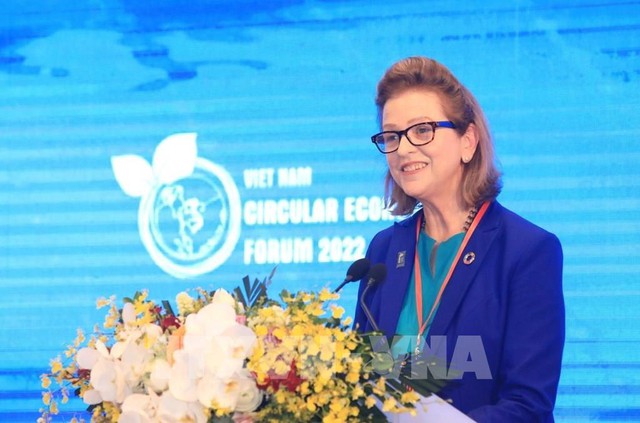 UNDP Viet Nam Resident Representative Caitlin Wiesen made the above statement at the conference themed "Opportunities to explore the potentials of circular economy to promote net-zero emission" held in Ha Noi on June 28.
She congratulated the Prime Minister Pham Minh Chinh and the Government of Viet Nam for setting clear dual growth goals of becoming a high-income country by 2045 and meeting carbon neutrality by 2050.
"With this commitment, Viet Nam has joined one of 70 countries that have taken pledges to tackle one of the most pressing issues of our time", she noted.
The net-zero commitment made at COP26 in Glasgow and the ongoing strategies and plans combine to mark a major cornerstone in Viet Nam's sustainable energy transition with circular economy at its center.
It is estimated that Viet Nam will require US$ 330-370 billion in investments to achieve net zero emissions by 2050 according to the draft National Climate Change Strategy, with significant large up-front investment.
Here, foreign direct investment (FDI) and companies have a critical role to play in providing technologies, human and financial capital.
Viet Nam has been and continues to be an attractive destination for FDI, and the country is well placed to attract further investment needed to power a just circular and energy transition.
FDI already contributes significantly alongside national investments in renewable energy in Viet Nam, including solar, onshore, and offshore wind power.
UNDP's latest research found that the GDP generated from the sustainable development of Viet Nam's marine economy will be 34 percent higher than the business as usual scenario by 2030 (corresponding to a difference of US$23.5 billion) should the country adopt "blue and green scenarios".
In addition, the gross national income of marine workers, will be 77,9 percent higher (or US$7,100).
Promoting circular cities, provinces as the engines of energy transition
With 70 per cent of its population living in coastal areas and low-lying deltas, relocation to cities and within cities is quickly accelerating.
Over the last 30 years, Viet Nam's urbanization rate has doubled to 38 percent and by 2050 it is estimated that 57 percent of Vietnamese will be urbanized.
Da Nang is the first city that formulated and adopted a city-level roadmap on Circular Economy, with the promulgation of Decision No. 1102 on approval of 'Research on development of a circular economy in Da Nang city'.
"UNDP commends the work of the Provincial People Committee of Da Nang for such remarkable achievements in advancing circular economy and UNDP is proud to have supported these efforts over the last two years", said Caitlin Wiesen.
In cities, the green transport sector can play, in particular with the increase of electric vehicles. Decarbonizing the transport sector brings opportunities to improve mobility, reduce local air pollution, and improve the quality of life.
Moving to electromobility could be one of the great opportunities to support the transition to net-zero emissions while bringing substantial benefits to the economy and the health of society, she recommended.
An estimated 45 percent of emissions are related to the way people extract, consume, and waste materials. Therefore circular strategies are critical to achieving net-zero emissions.
"This is why 27 percent of Parties to the United Nations Convention on Climate Change (UNFCCC) have included references to circular economy in their Nationally Determined Contributions. We commend Viet Nam for being among these countries", emphasized the UNDP Viet Nam Resident Representative.
Accelerating renewable energy to enhance energy, meet net zero emissions
For the first time, wind and solar generated more than 10 percent of electricity globally in 2021.
Fifty countries have now crossed this landmark of generating 10 percent of their electricity needs from renewable and Viet Nam became one of them in 2021.
Viet Nam is endowed with enormous potential for renewable energy growth. Over just five years, Viet Nam scaled-up solar energy capacity from almost nothing in 2017 to more than 16,000 MW in 2022, far exceeding national targets.
Viet Nam also has enviable wind power potential, particularly for offshore wind, with more than 3,200 km of coastline. In 2022 and 2023, 20 wind power projects will be installed in Soc Trang Province alone.
Caitlin Wiesen expected that by joining collective efforts, openly sharing data and knowledge, will help to shift mindsets, and frame and adopt a narrative around a circular economy that is tailored to the needs, the history, and the ambitions of the people of Viet Nam.
She expressed her delight to launch today together with the Ministry of Environment and Natural Resources the Viet Nam Circular Economy Hub.
The mission of the hub is anchored around three pillars including enhancing dialogue, generating know-how, and mobilizing collective action towards the circular economy transition.
"We, at UNDP, are deeply committed to supporting the Government of Viet Nam in framing this moonshot vision of a green economic rebound, and a low-carbon and inclusive circular economy to deliver on net-zero emissions by 2050", she stressed.