UNDP Resident Representative: Mekong Delta regional master plan is right direction for planning
VGP - The Mekong Delta regional master plan for 2021-2030 period, with a vision towards 2050, is the first multi-sector, inter-disciplinary, and inter-provincial master plan, which is the right direction for planning and sets a good example for other regions to follow.
June 22, 2022 8:40 PM GMT+7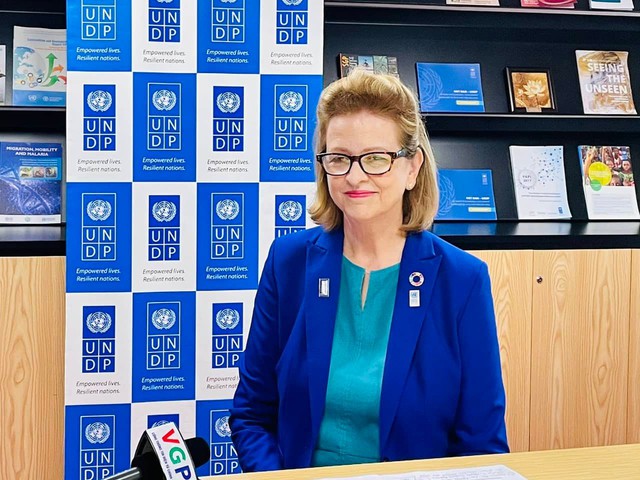 UNDP Resident Representative in Viet Nam Caitlin Wiesen made the above statement in her recent interview with the VGP.
She congratulated the Vietnamese Government on this first regional master plan, adding that it employs nature-based solutions and people-centered approach for sustainable, green, and climate-resilient development of the region.
The plan gives a special focus on development of and connection amongst the eight development hubs, with Can Tho will be the largest center, with other centers of production materials, food processing, and information will be located in other key provinces.
Each serves a specialized hub of production, processing, logistics, and information and all aim to increase value added for products from the region.
The plan serves as an overarching framework to guide the planning, management and investments of 13 provinces and cities to ensure synergies and complementary development by the people and for the people in the Delta, emphasized the UNDP Resident Representative.
The Mekong Delta is vital to Viet Nam's sustainable economic development. It supports the lives and livelihoods of more than 17 million people as well as provides 65 percent of aquaculture production, 60 percent of fish for export, nearly 70 percent of fruits of the whole country and 90 percent of Viet Nam's rice export.
Meanwhile, the Delta is also one of the most climate vulnerable regions in the world with a combination of sea level rise, salt water intrusion and subsidence. Urgent attention is needed to climate change adaptation and water security, noted Caitlin Wiesen.
As the lives and livelihoods of 17 million people and sustainable development of the Mekong Delta is supported by water and water ecosystem services, so the agricultural economy in three sub-regions needs to be based on three water sub-regions including fresh water sub-region upstream near Cambodia; brackish water sub-region, between upstream and coastal area; and salt water sub-region, which is coastal areas (Ben Tre, Soc Trang, Ca Mau, Bac Lieu, Kien Giang provinces).
Boosting quality of products, enabling deep processing in Mekong Delta
As one of the five largest river deltas in the world, with rich biodiversity in the world, the Mekong Delta contributes significantly to the food security in the region and the world, stated Caitlin Wiesen.
The Delta is well endowed with abundant natural resources and it could become a high-tech agriculture and aquaculture hub, if the master plan is effectively implemented.
For effective implementation of the plan, it is critical to ensure a strong join planning and coordination horizontally among provinces and ministries and vertically between provinces and ministries to ensure synergistic development of the 13 regions in the Mekong Delta.
She stressed the need to retain talent and young working force to stay and develop the local economy. The development centers must be able to offer quality education, medical and job opportunities, at least the same level of that in other cities.
It is encouraging to see the transformation from traditional agriculture production to development of agriculture sector in the Mekong Delta. To this end, production of quality products and focus on deep processing is more important than increase of quantity, underscored Caitlin Wiesen.
Ensuring all development is risk-informed in the Delta, she said, adding that economic development upstream, climate change, sea level rise, and un-coordinated development within the delta are pose increasing challenges to the sustainable development in the Delta.
There is evidence of subsidence that the Mekong Delta is literally sinking due to groundwater extraction, sand mining, and lack of alluvium volume due to upstream reservoirs. Urgent measures are to be undertaken to reduce the risks and impacts, recommended the UNDP Resident Representative.
She also highlighted the importance of improving logistics and transport systems within the Mekong Delta through development of the eight key centers, but also need to connect with neighboring provinces and region, such as Ho Chi Minh City and Ba Ria-Vung Tau Province where there are deep sea ports to connect with the international markets.
In addition, technology is crucial for agriculture development in the Delta. Technology, digital solutions and innovations are all essential to boost quality of the products and enable deep processing.
Regarding UNDP's support for the development of the Mekong Delta, Caitlin Wiesen said that, as development need to benefit local community, UNDP has been focusing on engaging with and bring benefits directly to local communities.
For example, UNDP supported the plantation and rehabilitation of more than 3,200 ha of mangrove in Ca Mau province. UNDP will construct 500 resilient houses in Ca Mau province and community centers in this region.
UNDP is working with local authorities and communities to climate resilient farming models, and sustainable agriculture value chains, to improve livelihoods and incomes for poor and near poor households.
"We will work with provincial authorities and communities to enhance sustainable development of the ocean economy. This includes support with marine spatial planning, taking into account renewable energy potentials and transformative agricultural models", stated Caitlin Wiesen.