Synopsys commits to advancing IC design talent and chip development in Viet Nam
VGP - Synopsys, Inc. signed a memorandum of understanding (MoU) with the Viet Nam National Innovation Center (NIC) under the Ministry of Planning and Investment (MPI) in the Silicon Valley, California, the U.S. on September 18.
September 19, 2023 8:13 PM GMT+7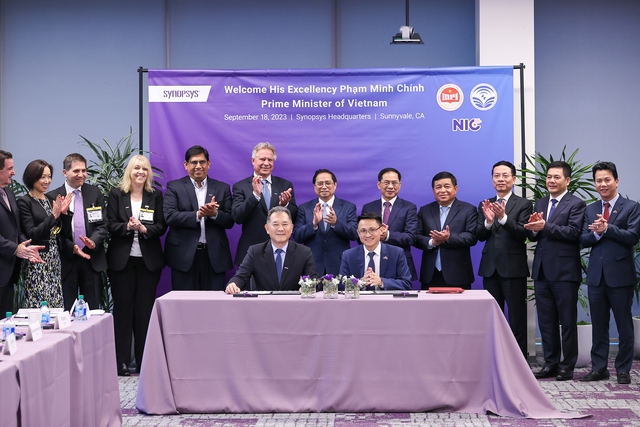 The signing ceremony was observed by Vietnamese Prime Minister Pham Minh Chinh, and Minister of Planning and Investment Nguyen Chi Dung.
The MoU is aimed at advancing the IC design workforce in Viet Nam. With Synopsys' support, NIC plans to build up the infrastructure for a new semiconductor design incubation center at Hoa Lac High-Tech Park in Ha Noi.
The same day, Synopsys also sign a MoU with the Authority of Information and Communication Technologies Industry (AICTI) of Viet Nam, under the country's Ministry of Information and Communications (MIC),
The MoU is targeted toward advancing semiconductor development in the country. As part of this effort, Synopsys is supporting the AICTI's establishment of a Vietnam semiconductor research institute.
Synopsys also plans to consult and provide insights as the AICTI drafts its strategic plan to set up an initial R&D fab and a high-end emulation center to cultivate advanced IC design start-ups and facilitate R&D fab production capability in Viet Nam.
"This is a time of unprecedented opportunity for Synopsys as semiconductor R&D continues unabated to harness AI and to capture the many opportunities in a world of 'Smart Everything'," said Joachim Kunkel, GM of the Solutions Group at Synopsys, who participated in the Viet Nam delegation visit.
"Not only is Synopsys a catalyst for chip innovation, we are also committed to ensuring a strong, global semiconductor ecosystem. This includes our commitment to the growth and development of our critical industry in Viet Nam, he added."
Doing business in Viet Nam since 2005, Synopsys opened its first office in the country in 2016. Today, Synopsys has four offices across Ho Chi Minh City and Da Nang. Of the 500 employees there, approximately 400 are in R&D roles.
Synopsys has also been invited by ministries to become a "trusted advisor" to the Viet Nam government, supporting semiconductor training and research efforts./.