U.S. businesses urged to support strong, independent, self-reliant and prosperous Viet Nam
VGP – Prime Minister Pham Minh Chinh called on the U.S. businesses to join hands in concretizing the U.S. support for a strong, independent, self-reliant and prosperous Viet Nam.
September 19, 2023 9:48 AM GMT+7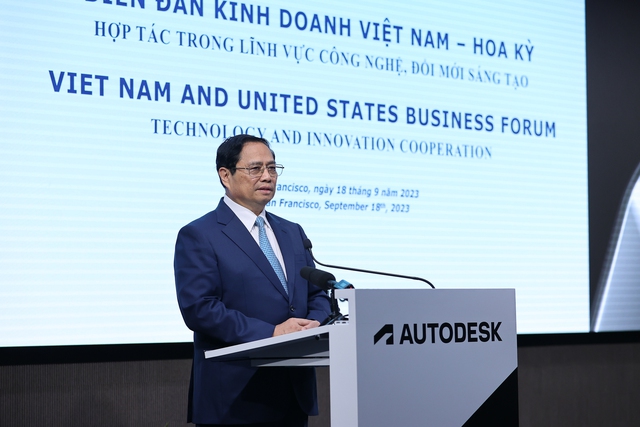 Pham made the call while addressing the Viet Nam-U.S. Business Forum on Technology and Innovation Cooperation in San Francisco, California, the U.S. on September 18 (local time).

The forum was held by Vietnamese Ministry of Planning and Investment in collaboration with Consulate General of Viet Nam in San Francisco and the ASEAN-U.S. Business Council.
Pham briefed about the milestones in the Viet Nam-U.S. relations, emphasizing that the elevation of the two countries' ties to a Comprehensive Strategic Partnership during President Joe Biden's recent State visit to Viet Nam reflects the great efforts of both countries and peoples, including their business circles.
He reiterated Viet Nam's consistent foreign policy of independence, self-reliance, diversification and multilateralization of external relations, being a good friend, a trusted partner, and a responsible member of the international community.
The Southeast Asian nation is building an independent and self-reliant economy in association with active and proactive international integration, he said.
Viet Nam also sticks to its "four nos" defense policy: no partaking in military alliances, no siding with one country to act against another, no foreign military bases in the Vietnamese territory or using Viet Nam as leverage to counteract other countries, and no using force or threatening to use force in international relations, Pham stressed.
He highlighted Viet Nam has gained great achievements over the past four decades of reform and international integration, with the GDP increasing to nearly US$410 billion, GDP per capita rising to US$4.100, and the country has emerged to become one of the top 20 economies in terms of international trade.
Despite negative impacts of fast-changing and complicated situation in the region and the world in 2022, Viet Nam's GDP growth accelerated to 10-year high of 8.02 percent, and export values grew 9.5 percent to US$732 billion, while disbursed volume of foreign direct investment rose to five-year high of around US$22.4 billion.
The Government chief said Viet Nam is now implementing three strategic breakthroughs, namely institutional building, infrastructure development, and human resource development.
Prime Minister Pham called on American businesses to continue investments in Viet Nam to help the country engage in global supply chain, particularly in technology and innovation for mutual benefits.
He affirmed the Government of Viet Nam stands ready to welcome all businesses to invest in the country as this is the best way to move forward to the future.
At the forum, Prime Minister Pham witnessed the signing ceremony of deals between Vietnamese and American businesses.