Rikkeisoft plans to invest up to US$30 million in U.S. by 2026
VGP - Rikkeisoft, the largest private technology company in Viet Nam, specializing in helping customers with digitalization and innovative solutions, is embarking on a strategic commitment to invest up to US$30 million in the United States within the next three years.
September 18, 2023 10:36 PM GMT+7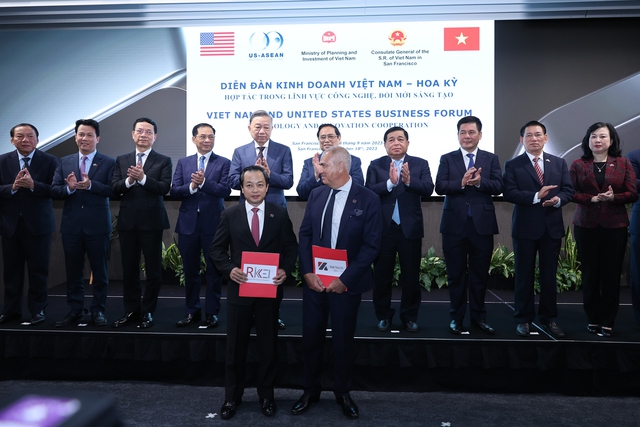 This significant investment will foster technology human resource development, expand infrastructure, and execute well-planned mergers and acquisitions (M&A).

The commitment was announced by Mr. Tung Bui, Senior Executive Vice President of Rikkeisoft, CEO of RKTech (Rikkeisoft's U.S. subsidiary), during the Viet Nam and United States Business Forum - Technology and Innovation Cooperation in San Francisco on the morning of September 18 (US time). This was announced in the presence of Vietnamese Prime Minister Pham Minh Chinh and the delegations from both countries.
Mr. Tung Bui stated that RKTech would primarily focus the investment of US$10 million - US$30 million over the next three years in M&A plans, expanding new offices, and developing technology human resources. Specifically, the investment for 2023 is set at US$2 million and is expected to increase to US$30 million by 2026.
This significant investment is projected to generate hundreds of technology-focused job opportunities in the U.S. market, propelling Rikkeisoft into the ranks of technology companies worth billions of dollars within the next five years.
RKTech, wholly owned by Rikkeisoft, was established in Dallas in early 2023 to provide high-quality and comprehensive information technology solutions and services to American businesses. To date, RKTech has already achieved initial success in expanding its network of U.S. partners and fostering technological collaborations in various sectors, such as automotive and manufacturing.
The CEO of RKTech elaborated on the multi-faceted impact of the investment and the unique edge that a Vietnamese technology company can bring to the U.S. "This investment is more than a financial infusion. It is a solution to the pressing talent shortage in the U.S. tech industry", he said.
"With Viet Nam's burgeoning highly skilled and cost-effective tech talent, we are uniquely positioned to offer value-added services to U.S. clients. Rikkeisoft's goal is not just to reach an IPO by 2028. It is to fundamentally enrich the U.S. tech landscape by providing a sustainable solution to talent scarcity", he added.
Mr.Tung Ta, Chairman of Rikekisoft shared that the U.S. market represents a strategic investment for Rikkeisoft. "The company envisions becoming a global technology services firm with a market capitalization of US$1 billion. Consequently, a substantial market like the U.S. can significantly contribute to Rikkeisoft's realization of this goal," he remarked.
In high-tech applications, Rikkeisoft is actively researching and developing AI solutions in facial and voice recognition to enhance productivity for businesses operating in sectors such as human resources, finance, and banking. In human resource training, Rikkeisoft is expanding its subsidiary, Rikkei Academy, aimed at educating students aspiring to become Vietnamese information technology engineers.
Rikkeisoft is committed to forging high-impact, far-reaching cooperation initiatives. Establishing RKTech and long-term investments in the U.S. market will play a pivotal role in helping Rikkeisoft achieve its IPO target in 2028.
Founded in 2012, Rikkeisoft is the largest private technology company in Viet Nam, specializing in helping customers with digitalization and innovative solutions across the U.S., Europe, and Asia-Pacific. Throughout its 11-year journey, Rikkeisoft has enabled its customers and partners to modernize their technological processes, design and deploy innovative software solutions, and expedite their digital transformation.