Laborers to have maximum three days off for 2023 New Year
VGP - Laborers will have maximum three days off to celebrate the 2023 New Year, according to the Ministry of Labor, Invalids and Social Affairs (MOLISA).
October 27, 2022 2:37 PM GMT+7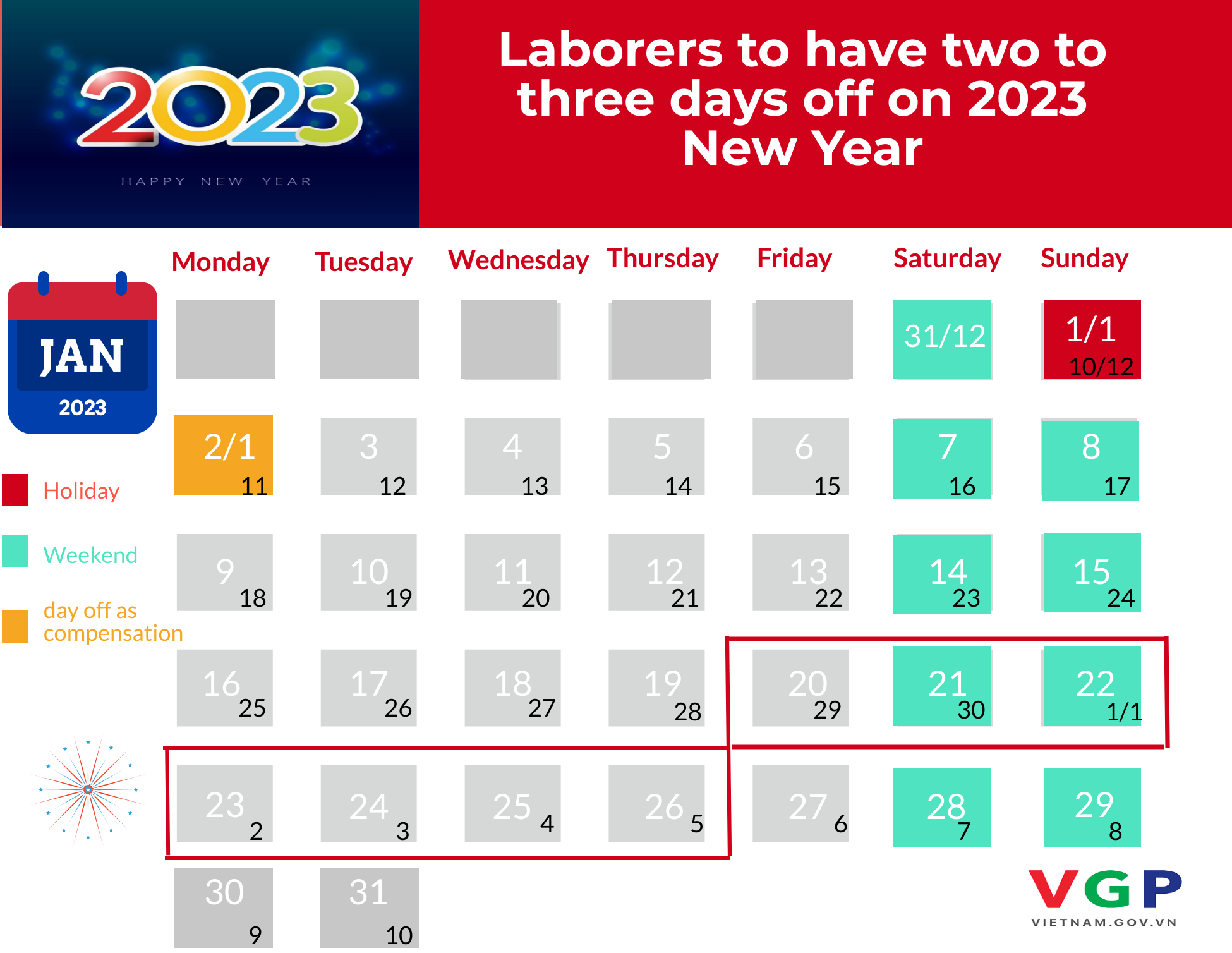 As the 2023 New Year's Day falls on Sunday, people will be given another day off the next Monday (or January 2, 2023).
This means laborers who work 40-hour per week or 5 days a week will have a three-day holiday for the 2023 New Year, lasting from December 31, 2022 to January 2, 2023.
The others who works 48 hours per week or 6 days a week will have two days off for the upcoming 2023 New Year, from January 1-2, 2023.
Since 2021, Viet Nam has a total of 11 days off on public holidays, while the number of days off for National Day (September 2) increases from one to two. If any holiday falls on the weekend, people will be entitled to an extra day off as compensation.
Foreign workers in Viet Nam are entitled to 11 days off for these public holidays, as well as two more days off for the traditional New Year's Day and National Day of their countries.
The MOLISA is collecting opinions from ministries and departments on the 2023 Lunar New Year holiday which could last for seven or nine days. The proposal will be submitted to the Prime Minister for approval.
In the first option, the holiday break will last five days as per regulations, from January 20 (Friday) to 26 (Thursday).
In the second option, the holiday will also span nine days, but from January 21 (Saturday) to 29 (Wednesday)./.