Workers to have four days off for upcoming public holidays
VGP - Public workers in Viet Nam will be given a total of four days off for the upcoming Reunification Day and International Workers' Day.
April 20, 2022 5:01 PM GMT+7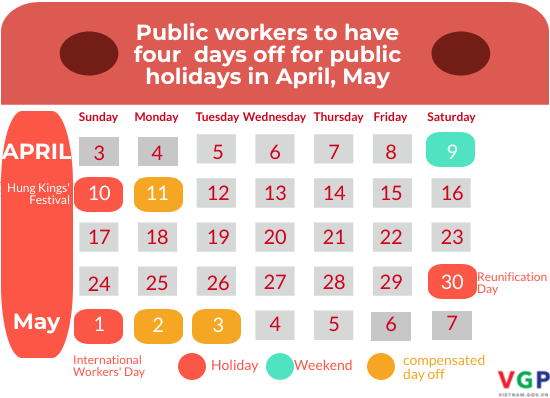 The Reunification Day and International Workers' Day fall on Saturday and Sunday, the next Monday and Tuesday will be treated as compensated days off.
This means officials, civil servants, and employees of administrative agencies, political organizations, and socio-political organizations shall be offered a four-day break from April 30 to May 3 to mark these two public holidays.
Agencies and organizations that do not implement a fixed work regime with two days off every weekend should rely on their specific operation plans to arrange a suitable holiday schedule.

The upcoming holidays are expected to be the peak period of domestic tourism as families often choose to flock to tourist sites after their children finish the academic school year 2021-2022.
The Reunification Day (April 30) marks the fall of the Saigon government on 30 April 1975. The date is known among Vietnamese as Reunification Day – one of the final moments in the process of north and south becoming reunified.

Labor Day (May 1) is the international holiday. It is most commonly associated as a commemoration of the achievements of the labor movement. The holiday may also be known as International Worker's Day or May Day and is marked with a public holiday in over 80 countries./.