Viet Nam ready for joint work to maintain global peace, stability
VGP - The 11th International Meeting of High-Ranking Officials Responsible for Security Matters opened in Moscow, Russia on Wednesday, with 100 delegations from countries, territories and international organizations.
May 25, 2023 11:06 PM GMT+7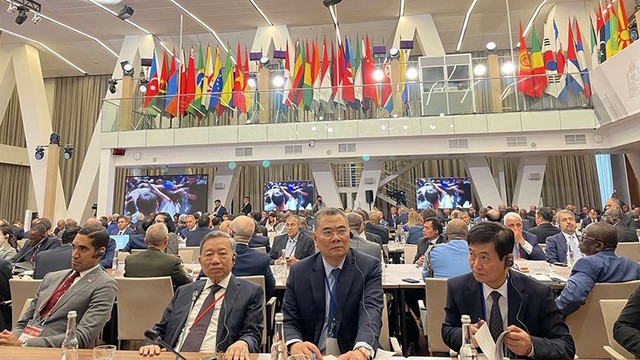 In his remarks at the event, Vietnamese Minister of Public Security To Lam emphasized that the world situation has evolved complicatedly, confusing international relations, as well as the political, economic, social and security life of most countries and regions.
Particularly, territorial disputes and maritime tensions are becoming increasingly complex, potentially turning into military conflicts that directly threaten peace, stability, security, maritime and aviation safety and freedom.
Besides, high-tech criminals attack many targets worldwide to steal information, intellectual property, and state secrets. Terrorist crime activity in some areas shows signs of increasing.
According to Minister To Lam, non-traditional security challenges, such as epidemics, natural disasters, climate change, water security, nuclear safety, crisis, depletion of natural resources, and disruption of production-supply chains, tend to increase in quantity and severity.
The minister added that his ministry highly values the significance of the meeting and wishes to continue learning from the experience of international friends.
At the same time, he expressed that Viet Nam was willing to cooperate and share experiences with law enforcement agencies and international organizations.
On the sidelines of the conference, Minister To Lam had meetings and exchanged ideas with the heads of delegations from Laos, Cambodia, Cuba, China and Belarus. Earlier on May 23, Lam attended and delivered a speech at the third ASEAN-Russia Consultations of the High Representatives for Security Issues.
He emphasized that Viet Nam highly values Russia's role and positive contributions to timely and effective coordination to address both traditional and non-traditional security challenges that are emerging.
Viet Nam consistently supports the strengthening of the ASEAN-Russia strategic partnership, he said, wishing that Russia will continue maintaining its role and position as a major power that makes active and responsible contributions to peace, security and development in the region.
Viet Nam is committed to working closely with Russia and other ASEAN countries to contribute responsibly to peace, security and stability in the region and the world, with people as the centre, the goal and motivation./.