Viet Nam proves power with 20 golds, records in ninth SEA Games day
VGP — Viet Nam won 20 golds, including a historic title in table tennis, on May 14 to strengthen its top place of the 32nd SEA Game medal tally.
May 15, 2023 10:25 AM GMT+7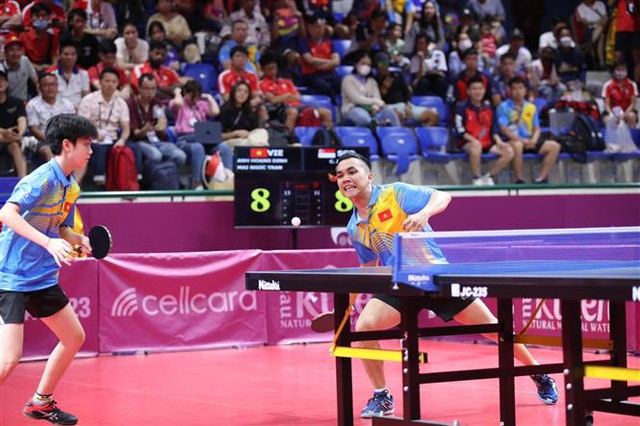 Dinh Anh Hoang and Tran Mai Ngoc defeated strong Clarencezhe Zhe Yu Chew and Jian Zheng of Singapore 3-1 in the table tennis' mixed doubles final.
They ended Viet Nam's 26-year of title drought in this event.
The last time a Vietnamese pair, Nguyen Manh Cuong and Vu Thu Thuy, on top of podium was in the 1997 Games in Indonesia.
Although the Vietnamese players were younger and inexperienced they made a surprise with a 13-11 win the first set. The win pushed them in the second set that they finished at 11-8 despite strong resist from Chew and Zheng.
The third set, champion Chew proved why he has won four SEA Games titles. His smart and technical forehands played key role in earning points for the Singaporean duo, who won 11-8.
In the fourth set, two sides went neck-to-neck with each other but it was the day of the Vietnamese who finally wrapped the match with a 14-12 win.
"Their technique was really good. Despite their age, they have dominated local tournaments including the recent national championship. Hoang was 21 and Ngoc was 19," said coach Dinh Quang Linh.
"Today result was great but it was not a surprise to our team because of their quality."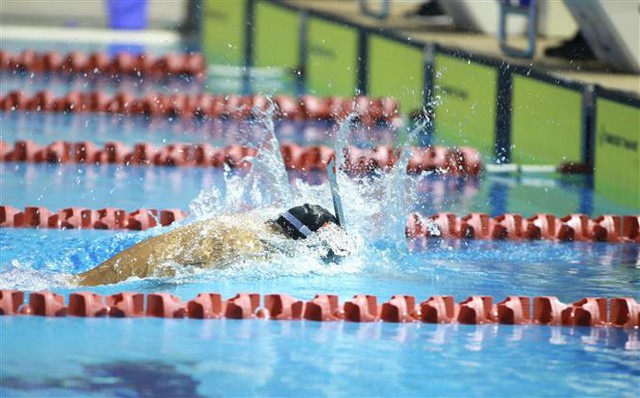 Finswimming was the most successful team of the day as they won five golds and set one new Games record.
Nguyen Tran San San finished first in the women's 800m surface in a time of 7min 19.18sec, which was a new height of the Games.
It was San's second gold and second record in the Cambodian tournament. She won the first ones in the 400m surface on May 13.
Other golds of the team went to Nguyen Trong Dung (men's 800m surface), Nguyen Thi Thao (women's 50m bi fins), Vu Dang Nhat Nam (men's 400m bi fins), and the mixed relay 4x50m surface team.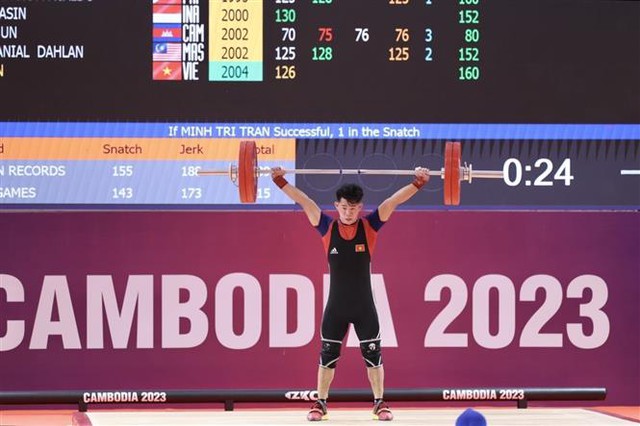 Weightlifter Tran Minh Tri also won and set a record on men's 67kg.
Tri lifted 130kg in the snatch to place fourth. In the clean and jerk, he made it 176kg to top the ranking. It was 1kg heavier than the old record of 173kg set by Witsanu Chantri of Thailand.
Tri's total weight of 306kg brought him gold in his first time participating in the regional sport meet.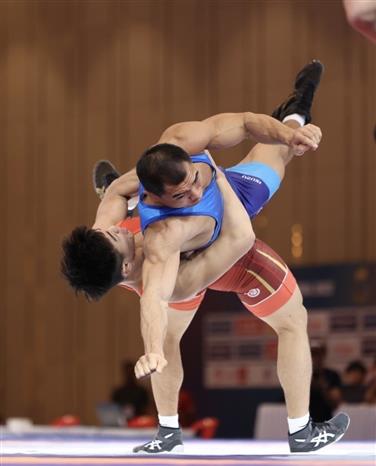 In wrestling, Vietnamese athletes won three golds by Bui Tien Hai (men's 60kg), Nguyen Cong Manh (men's 72kg) and Nguyen Dinh Huy (men's 55kg)
Judo team secured two golds in the men's 55kg by Nguyen Hoang Thanh and men's 60kg by Chu Duc Dat.
After poor results in the first day on May 13, fencing squad bagged two golds in the women's sabre team and men's epee team.
Aerobics completed their perfect tournament adding two more golds in their pocket on May 14.
Tran Ngoc Thuy Vi and Le Hoang Phong championed in the mixed pair category. They then joined with Vuong Hoai An, Nguyen Che Thanh and Nguyen Viet Anh in the group-of-five class. The two-time world champion team met no difficulty to defend their title.
The aerobic won all five golds available in the 32nd Games. This was the first time a Vietnamese sport team to make such outstanding performance.
Vietnamese athletes also won golds in taekwondo, arnis, Chinese chess and traditional boat race.
After the ninth day, Viet Nam ranked top of the medal tally with 107 golds, 93 silvers and 94 bronzes.
Thailand placed second with 91 golds. Indonesia jumped to the third with 69 golds./.