Oanh makes history, Viet Nam on top of ranking table
VGP — Runner Nguyen Thi Oanh made history in the day that Viet Nam leave all teams far behind in the medal tally of the 32nd SEA Games in Phnom Penh, Cambodia.
May 13, 2023 2:40 PM GMT+7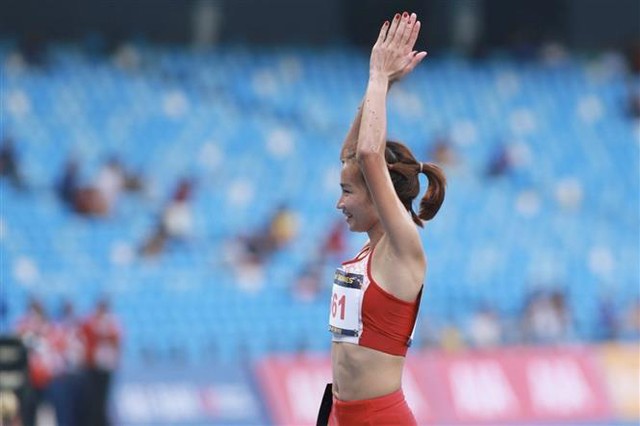 Oanh has become the most successful runner of this year SEA Games after she won the fourth gold medal in the women's 10,000m event at the Morodok Techo National Stadium on May 13.

As usual the Vietnamese took lead of the race before coming first in a time of 35min 11.53sec.
Her teammate Pham Thi Hong Le was second, followed by Indonesian Odekta Elvina Naibaho, who won the women's marathon gold on May 6.
""I'm really grateful to everyone who cheered, accompanied and motivated me in this Games. Now, I have been released from worries and pressure after completing all tasks. I'm so grateful and happy that I was able to do such good job," Oanh said.
Oanh has been the first Vietnamese and ASEAN runner to win four individual gold in one Games.
Her three other golds were from the 1,500m, 5,000m and 3,000m steeplechase event.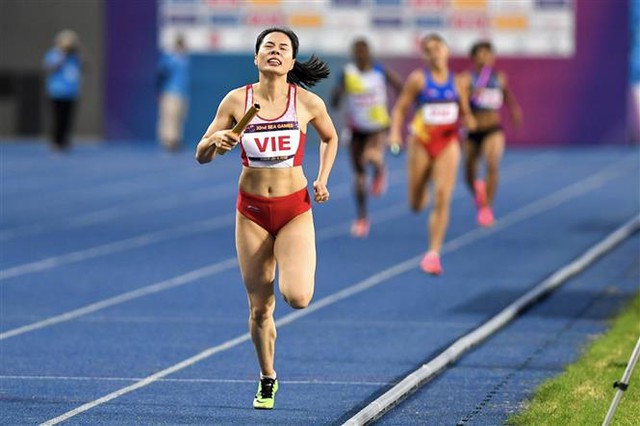 Also in the track-and-field, Vietnamese quartet Nguyen Thi Ngoc, Hoang Thi Minh Hanh, Nguyen Thi Hang and Nguyen Thi Huyen defended their title in the women's 4x400m relay.
The team dominated the race from the beginning, creating big gap between other runners.
Viet Nam crossed the finish line after 3:33.05. It was the fifth time in a row that Viet Nam won this event.
Runners from the Philippines took silver while Thai competitors pocketed bronze.
It was Huyen's third gold in this Games but 13th in her seven regional sport meets. She broke her own record of being the most successful SEA Games runner of all time set on May 12 when she earned the 12th title in the women's 400m hurdles.
"Rivals are stronger and faster. So each of us have to make more effort and run with all the best from the beginning. The first runner must make a gap with other rivals to create comfortable conditions the rest," Huyen said.
In addition to two golds, Viet Nam secured one silver in the men's high jump of Vu Duc Anh and women's 100m of Tran Thi Nhi Yen.
The athletics team ended their SEA Games campaign with 12 golds to place second in the ranking. Thailand with 16 golds was on top place.
Martial arts have been Viet Nam's strong points in every regional Games.
On May 12, wushu artists also wrapped up their competitions with five gold medals.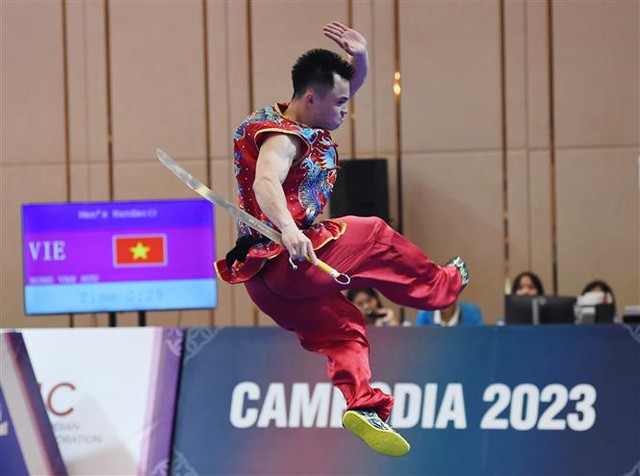 Nong Van Huu topped the podium of the men's combined nandao and nangun of taolu (performance) event.
His teammates in the sanda (combat) disciplines won four in the women's 48kg class by Nguyen Thi Lan; men's 60kg by Bui Truong Giang, men's 65kg by Truong Van Chuong and men's 70kg by Dinh Van Bi.
Taekwondo team, otherwise, began their tournament with two golds in the poomsae (performance) events.
They won in the men's recognised poomsae team and mixed freestyle team.
Hua Van Huy added a bronze in the men's freestyle individual poomsae.
The taekwondo fighters will begin their competitions on May 13. In the 31st Games in Viet Nam, they bagged five golds.
The finswimming team also started competing on May 12.
Among eight finals, they took four golds.
Nguyen Thanh Loc won in the men's 100m surface. Le Thi Thanh Van championed in the women's 100m bi fins. The men's and women's teams won in the 4x200m surface relay.
Viet Nam stayed stably on top of the medal tally with 71 golds after seven days of the competitions.
Thailand was second with 60 golds while Cambodia came third, winning 58 titles./.