Viet Nam makes significant progress in HIV response efforts
VGP - With support from the U.S. President's Emergency Plan for AIDS Relief (PEPFAR), Viet Nam made significant progress since 2014 in taking ownership of its HIV response efforts.
May 09, 2023 8:28 PM GMT+7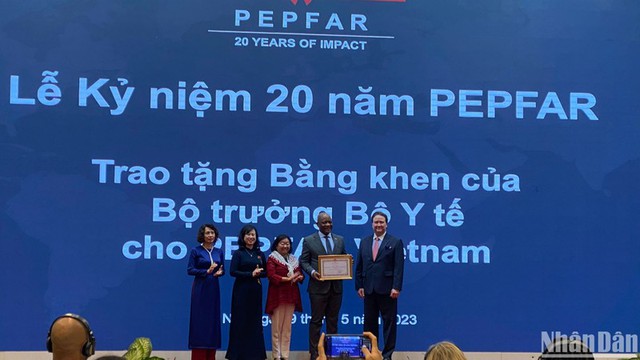 U.S. Ambassador to Viet Nam Marc E. Knapper made that above statement while delivering his remarks at a ceremony marking the 20th anniversary of the PEPFAR in Viet Nam which took place in Ha Noi on May 9.
A year after the U.S. Government launched PEPFAR in 2003, Viet Nam became the first and only country in Asia to receive focused PEPFAR funding.
In the 10 years that followed, the U.S. was the largest donor to Viet Nam's national HIV response, contributing 46 percent of the overall HIV budget, with additional funding from the Global Fund and other partners.
Together, PEPFAR and Global Fund resources directly supported 90 percent of Viet Nam's procurement of life-saving antiretroviral (ARV) drugs to treat clients, giving people living with HIV a renewed chance to not only survive, but to thrive.
Today, more than 70 percent of the estimated 240,000 people living with HIV in Viet Nam receive antiretroviral drugs through Social Health Insurance, funded by domestic resources.
From 2021 to 2022, PEPFAR Viet Nam provided important technical assistance to support the enrollment of 8,727 new antiretroviral therapy patients, while helping to retain at least 89,000 on treatment.
Overall, Viet Nam's program maintained an impressive 99 percent viral out of an estimated 250,000 people living with HIV in the country, over 210,000 know their HIV status and over 171,000 are on antiretroviral treatment (84 and 81 percent, respectively).
The viral suppression rate of 96 percent for those on treatment is very high. Viet Nam is very close to achieving the 90-90-90 targets.
Remarkable achievements of Viet Nam in HIV treatment
According to Marc E. Knapper, Viet Nam truly stands out as a global example for sustainability and domestic resource mobilization through the Social Health Insurance program.
Over the last ten years, the Government of Viet Nam has taken seriously the responsibility for funding and administrating many components of its HIV response, including paying for all HIV treatment services and drugs in a way that addresses the needs of people living with HIV.
"We appreciate the Government's policy and financial leadership to accomplish this commendable goal," he shared.
Second, Viet Nam has been very quick in adapting innovations and scientific advances to implement a comprehensive response.
For example, the recent and rapid expansion of PrEP services is a major achievement. PrEP in Viet Nam officially started in 2020, and just after three years, the cumulative number of PrEP clients has already reached 67,000, with 51,000 clients on PrEP as of 2022.
And the target to reach 72,500 PrEP clients by 2025 is very ambitious. Viet Nam ranks second in the Asia-Pacific region in the number of PrEP users, just behind Australia with about 57,000 net users as of 2022.
Third, another critical element for Viet Nam's success is its ability to engage a wide range of stakeholders, from ministries and agencies at the national level, to provincial agencies, academic and research institutes, social organizations, the fast growing private sector, and dedicated community members and community-based organizations./.