Viet Nam enjoys boom in inbound tourism
VGP - Viet Nam welcomed nearly 6.6 million foreign arrivals over the last seven months of 2023, equal to 83 percent of the target set for the whole year (8 million), announced the Viet Nam National Authority of Tourism (VNAT).
July 29, 2023 3:39 PM GMT+7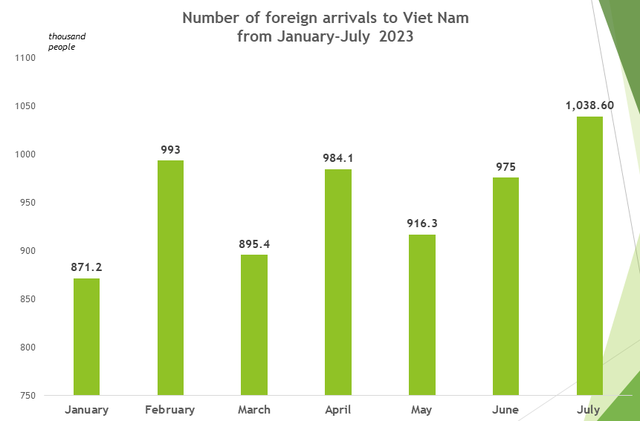 In July alone, more than 1.038 million foreign visitors travelled to the Southeast Asian nation, up 6.5 percent against the previous year and marking the first month in 2023 the number of foreign arrivals to the country exceeding 1 million.
Also in July, the number of domestic tourists hit 12.5 million, raising the figure recorded in the seven-month period to 76.5 million.
The VNAT estimated that tourism revenue reached VND416,600 billion (US$17.6 billion) in the January-July period.
During reviewed period, South Korea was the largest source market with nearly 1.9 million arrivals, accounting for one-third of the total international visitors to Viet Nam. It was followed by China (738,000) and the U.S. (445,000).
Among the top ten source markets of Viet Nam tourism, four are in Northeast Asia-South Korea, China, Chinese Taipei, and Japan, and three in Southeast Asia-Thailand, Malaysia, and Cambodia. Australia and India ranked ninth and tenth. In Europe, the UK, France, and Germany were the three biggest tourist source markets.
Tourists from Viet Nam's major source markets saw growth in July, such as Australia (34.3 percent), Chinese Taipei (31.3 percent), Japan (15 percent), China (14 percent), the U.S. (7 percent) and South Korea (6 percent).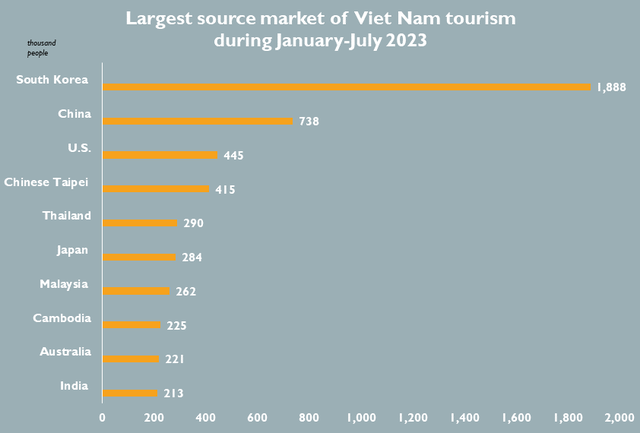 Viet Nam may welcome 12 million international tourists in 2023 thanks to new visa policies
Viet Nam's new visa policy may help the country to welcome 12 million foreign tourists this year, far surpassing the target of 8 million set previously, said Hoang Nhan Chinh, Secretariat Director of the Viet Nam Tourism Advisory Board (TAB).
Earlier, on June 24, the National Assembly approved the Government's proposal to increase the validity of e-visas for foreigners to 90 days from the current 30 days.
The new policy is part of the Law amending and supplementing a number of articles of the Law on Entry and Exit of Vietnamese Citizens and Foreigners' Entry into, Exit from, Transit through and Residence in Viet Nam adopted by legislators on June 24.
The Law is scheduled to become effective since August 15, 2023.
Citizens of countries that are unilaterally exempted from visas by Viet Nam to be granted temporary residence for 45 days as opposed to the current 15 day regulations and be considered for visa issuance and temporary residence extension according to regulations.
Viet Nam currently offers e-visas to citizens of 80 countries and territories and waives visa for nationals of 25 countries, mostly for between 15-30 days.
The easing of e-visa policy both in terms of applicable subjects and duration will help attract more foreigners to visit the country and seek investment and business opportunities, creating a driving force to promote socio-economic development in general and the tourism industry in particular.
At present, Viet Nam is applying the unilateral visa exemption policy to 13 countries, namely Russia, Japan, South Korea, Norway, Finland, Denmark, Sweden, Belarus, the UK, France, Germany, Spain and Italy./.