Viet Nam earn more golds to maintain at top of SEA Games ranking
VGP — Viet Nam stayed strong in the top of the 32nd SEA Games medal tally after the sixth official day of the competitions in Phnom Penh, Cambodia.
May 12, 2023 5:29 PM GMT+7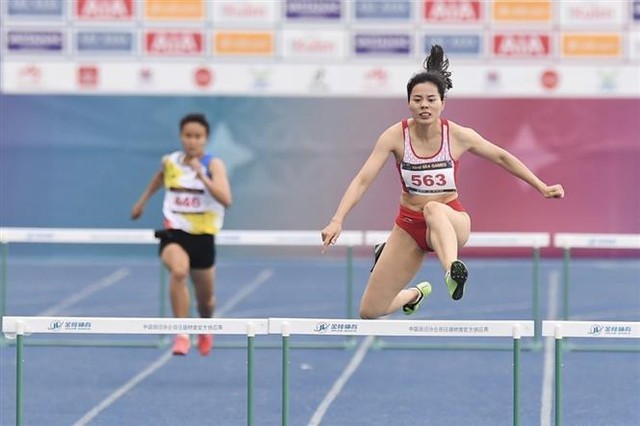 Viet Nam collected 58 gold, 57 silver and 72 bronze medals.

The host was closed behind with 56 golds and Thailand was at third on 54.
On May 11, the Vietnamese athletes won eight gold medals including three in athletics and one in swimming.
Nguyen Thi Huyen made SEA Games history after she earned her 12nd gold in the women's 400m hurdles. It made her the best SEA Games runner of all time.
The old record holder was Triyaningsih Triyaningsih of Indonesia with 11 golds.
Huyen made strong sprints to finish her race in a time of 56.29sec. She passed Robin Lauren Crisostomo Brown of the Philippines in the last 10m to defend her title. Vietnamese Nguyen Thi Ngoc came at third.
"I am so happy with the gold. It is so excited that I can make such a sprint at my age (29)," Huyen said.
"I was disappointed when I failed to defend my title in the 400m yesterday. But I come back and win now."
It was Huyen's second gold in this Games. She took the first one in the mixed 4x400m relay earlier this week.
The second gold in athletics went to Nguyen Thi Thu Ha in the women's 800m event.
Ha came from behind to cross the finish line first in a time of 2:08.55.
Her teammate Bui Thi Ngan came second, followed by Chui Ling Go of Singapore.
It was Ha's first time at the SEA Games and she cried hard for the victory.
"It is a surprise for me. I can't believe that I win because all runners are strong," said Ha.
"I follow tactic of the coaching board and run like I am in training. It helps me win."
Later, Nguyen Linh Na brought a gold to Viet Nam in the women's heptathlon. She topped the podium with 5,403 points.
Coming to the Games as the reigning champion, Na was No 1 seed for the title. She proved her power with high scores in all seven events.
Sarah Noveno Dequinan of the Philippines came second and Sunisa Khotseemueang from Thailand was third.
It was Na's second gold medal after she won and set a Games record in 2022 in Ha Noi.
"It is really hot here and I don't have my best performance so my result is not as good as it was in the 31st Games," said Na who delayed her wedding party for the SEA Games.
"A gold last year is a motivation and high pressure on my way to defend title. My coach and I prepared carefully for this Games and I make it."
Former champion Vu Van Huyen was Na's coach. He said Na suffered pains after the National Sports Games last December. She had short time to recover so coach and athlete must have special plan to make sure her fitness for the Games. Her result was not as good as expected but she was deserved to win.
In swimming, Nguyen Huy Hoang added another gold in his pocket after winning in the men's 400m freestyle event.
Hoang beat Khiew Hoe Yean of Malaysia and Glen Jun Wei Lim from Singapore.
In the men's 200m butterfly, Ho Nguyen Duy Khoa secured a bronze. Meanwhile Vo Thi My Tien bagged a bronze in the women's 800m freestyle.
Martial artists on May 11 won four golds in wushu and kun khmer, the Cambodian traditional kungfu.
World Games champion Duong Thuy Vi met no difficulty to win in the women's combined jianshu (straight sword) and qiangshu (spear) in wushu's taolu (performance).
The veteran earned 19.2290 points to take the gold in her birthday.
In kun khmer, Bui Yen Ly won her third SEA Games title in a row in the women's 57kg while Trieu Thi Phuong Thuy championed for the first time in the women's 51kg class.
Other medallists were cyclist Nguyen Thi That with a silver in the women's road criterium, and fencer Nguyen Tien Nhat in the men's individual epee./.