Viet Nam takes top position in SEA Games with 50 golds in day 5
VGP — Viet Nam topped the medal tally with golf and swimming highlights after the fifth day of competitions at the 32nd SEA Games on May 10.
May 11, 2023 3:21 PM GMT+7
Teenager Le Khanh Hung successfully won Viet Nam's first ever gold in golf after he triumphed in the men's individual category at the Garden City Golf 72 in Phnom Penh.
The 15-year-old finished first with 13-under par 216 result, leaving all other rivals and title favourites from Thailand, Malaysia and Indonesia behind.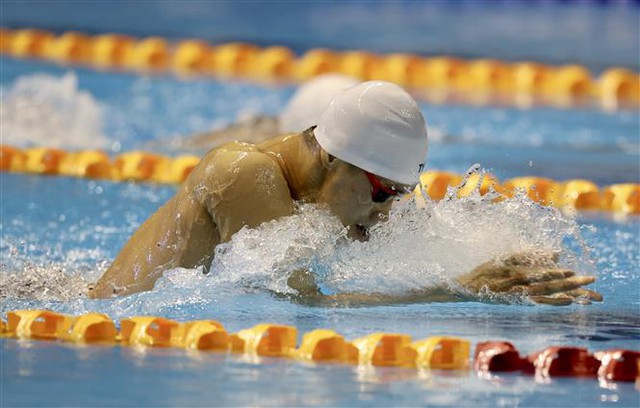 Vietnamese golfers have taken part in eight SEA Games tournaments. They have not won any medal.
Hung, a high-school student in HCM City, made Viet Nam named in the SEA Games golf champion list after three days of outstanding performance. He took lead from the beginning to the end.
"I was nervous prior to the final round. I was shaking and felt not comfortable. However, I looked at my father and gained my focus and confidence back to stay strong and won," said Hung.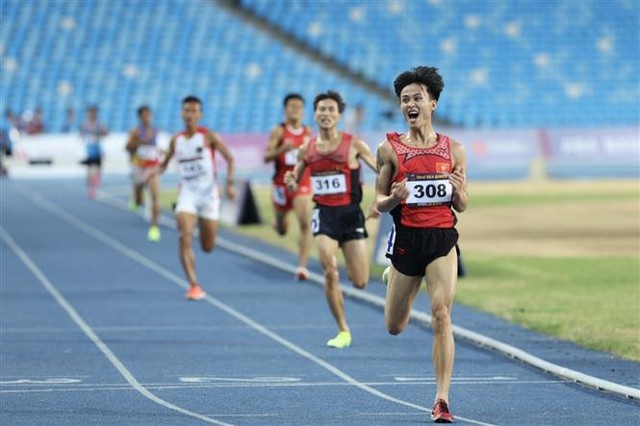 His teammate Nguyen Anh Minh, 16, finished at third place.
Hung and Minh will compete in the men's team event on May 11. They are expected to bring more medal home.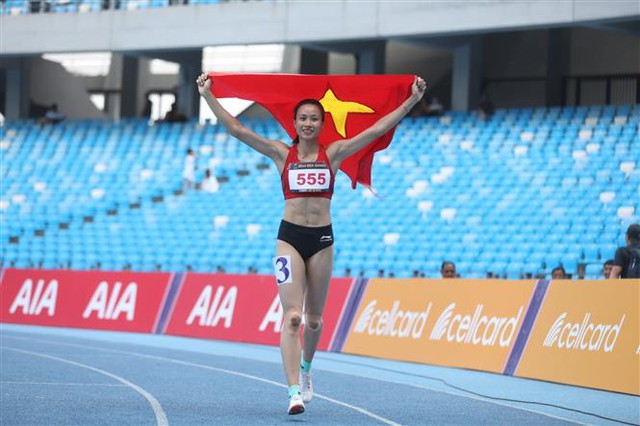 In swimming, SEA Games champion Pham Thanh Bao continued shining with a gold and a new record in the men's 200m breaststroke event.
Bao came first in a time of 2min 11.45sec to steal the title from defending champion Maximillian Ang Wei of Singapore. His result was a new height of the tournament, beating the old one of 2:11.93 set by Wei last Games in Ha Noi.
It was Bao's second individual gold and second record at the Games. On May 7, he won and set new record in the men's 100m breaststroke.
In addition to golf and swimming, Vietnamese athletes also won golds in athletics and martial arts.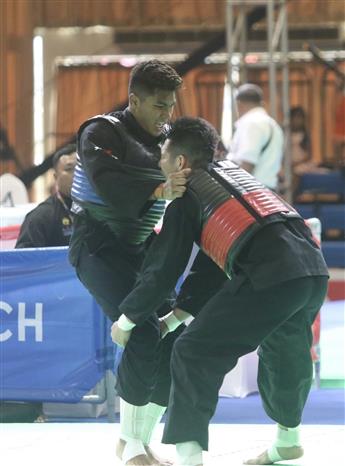 Pencak silat team secured four golds by Nguyen Tan Sang (men's 75-80kg), Nguyen Hoang Hong An (women's 50-55kg), Quang Thi Thu Nghia (women's 65-70kg) and Nguyen Duy Tuyen (men's 80-85kg).
Kun Khmer squad made impressive shows with three golds by Huynh Ha Huu Hieu (women's 48kg), Ta Thi Kim Yen (women's 48kg) and Bang Thi Mai (women's 60kg ).
The team, who also secured four silver medals on May 10, will wait for more gold on May 11 when five fighters will compete in the finals.
In track and field, Huynh Thi My Tien took her first gold medal in her third SEA Games attempt.
Tien defeated reigning champion and teammate Bui Thi Nguyen, runners-up Emilia Nova of Indonesia and Jelly Dianne Paragile of the Philippines in the women's 100m hurdler.
"I can't believe that I win a gold. All runners are so strong. During the race I told myself that I just needed to run as fast as possible. No matter what the result is, I would happy with it," said Tien who finish at last in the 31st Games.
"When we were very close to the finish, I just tried to sprint faster, expecting to be in the top three," said Tien who cried when she knew the official result.
The second gold of the running team belonged to Nguyen Trung Cuong in the men's 3,000m steeplechase.
Cuong also left teammate and reigning champion Le Tien Long behind to claim a title in his second SEA Games.
Viet Nam sport delegation won 50 golds after the fifth official day of the Games. They jumped to the No 1 position in the ranking.
Cambodia and Thailand were close behind with 47 golds each. The host were at second place due to its higher number of silver./.