Viet Nam draws pandemic fighting lessons for many other countries
VGP - Viet Nam has been successfully in pandemic fighting and drawn good lessons which can be shared for many other countries and prepared for possible other pandemics, said Dr. Angela Pratt, the Representative of the World Health Organization (WHO) in Viet Nam.
October 05, 2022 10:12 PM GMT+7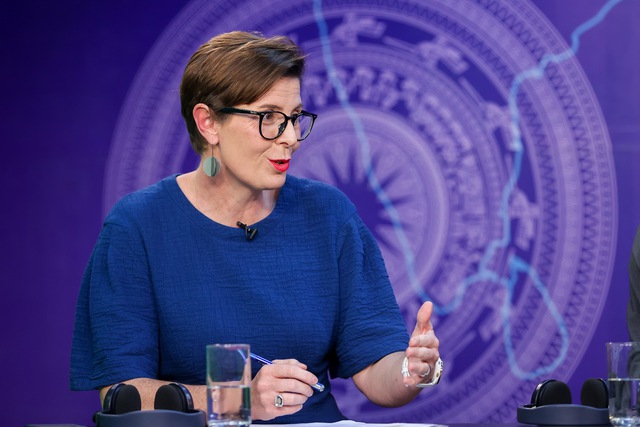 Dr. Angela Pratt made the statement during a talkshow hosted by the Viet Nam Government Portal on one-year implementation of Government's Resolution 128/NQ-CP, dated October 11, 2021 on safety flexibility and effective control of COVID19 epidemic in Viet Nam.
Resolution 128 was a really important milestone in Viet Nam's response to COVID-19, signaling an important shift from containing the virus and suppressing transmission at all costs, to what we sometimes call "living with COVID-19", or "sustained management" of the virus – which is all about balancing COVID-19 restrictions with the need to open up the economy and society.
This was a really important step because we know that Viet Nam, like many countries, suffered economically during the pandemic – and those economic impacts have far-reaching social impacts, for example on people's mental health and sense of social connection.
Viet Nam was in a really strong position to make this shift last October, because the country was ramping up vaccination and achieved good vaccination coverage after months of dedicated efforts – from the Government, the health sector, supporting partners and the community.
The WHO Representative assessed that Viet Nam had done well in suppressing transmission of the virus early in the pandemic, thanks to strong public health and safety measures and community efforts.
And it was able to draw on lessons learned from earlier phases of the pandemic and use these lessons to adjust its public health and social measures.
She also commented Viet Nam in managing the pandemic from the beginning with strong capacity for early detection and response to cases and clusters.
All of these measures kept cases and deaths low early in the pandemic. Then when vaccines were available, Viet Nam was able to roll out the vaccines and quickly achieve really high population coverage. All of these efforts thanks to leadership and commitment from Government – with timely and appropriate policies and guidance, including Resolution 128.

Efforts and sacrifice of the community, including during the really tough social distancing periods.
The Representative also hailed the tireless efforts of health sector, supported by other sectors. Especially want to acknowledge the efforts and commitment of health care workers
Recommendations
Ms. Angela Pratt said that as we are working to balance public health and opening up the economy and society to achieve further development, it is important to remember that the COVID-19 pandemic is not over yet.
The Representative stressed that it is also really important to keep doing all we can to protect ourselves and those around us – keeping in mind at risk groups who are still vulnerable to getting really sick if they get COVID-19.
Also important to remember COVID is not always a mild disease – especially if you get long COVID, which we're still only really beginning to understand. If you can avoid getting sick, avoid getting sick.
So for individuals and the community : We really encourage people to follow the MoH's 2K+plus guidelines including wear a mask in crowded places and enclosed spaces, wash hands frequently, and get vaccinated.
Vaccination is extremely effective at preventing severe illness and death.
The WHO representative also suggested the Vietnamese Government focus on two main things including (1) Keep monitoring hospitalized and severe cases and healthcare capacity, and be ready for more surges in the future and (2) Adjust measures as needed to protect vulnerable groups including the elderly, people with underlying conditions, health care and frontline workers.
People in Viet Nam have sacrificed a lot and really worked hard in solidarity to fight COVID-19 – now is not the time to take the foot off the pedal.
Last but not the least, "we need to build on all the efforts to date to protect people, economy, health system for a strong and healthy Viet Nam," said the Representative./.