AHK Chief Representative: Resolution No. 128/NQ-CP becomes relief for businesses
VGP – Resolution No. 128/NQ-CP adopting provisional guidelines on safe adaptation to the COVID-19 pandemic has become a relief for any business operating in Viet Nam after a long period of social distancing measures through different directive levels.
October 20, 2021 12:41 PM GMT+7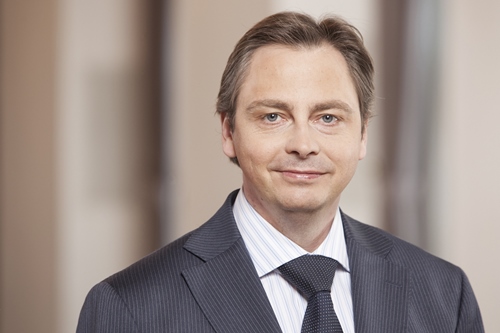 Chief Representative of the German Industry and Commerce in Viet Nam Marko Walde
>>> Resolution 128 is important first step to live with new normal situation
Chief Representative of the German Industry and Commerce in Viet Nam (AHK Viet Nam) Marko Walde made the above comment in his recent interview with the Viet Nam Government Portal.
Marko Walde supposed that with high level of vaccines coverage among adults of Viet Nam, firms are now more confident to welcome workforce returning to their normal business activities, adding that it is crucial for enterprises to maintain prevention measures at work place and instruct appropiate strategies along with the Ministry of Health's guidances.
Another highlight of the Resolution is the emphasis on localities' addition measures must not constitute hindrance the movement of goods, production and business activities as well as the mobility of people between provinces and cities. This strategy is crucial to prevent firms from further business stops and supply chain disruptions, he asserted.
When the COVID-19 pandemic plunged Viet Nam into a challenging situation, including manufacturer shutdown, production standstill and supply chain bottleneck, the Resolution has been put in place to eliminate the spread of the virus but still allow business to operate efficiently in a new normal period, shared the Chief Representative of the AHK Viet Nam.
The key for businesses is to find a balance between resuming and rebuilding operations while keeping employees safe, he suggested, highlighting the importance for a business to implement measures to avoid further transmission of the virus in the workplace and frequently monitor health declaration at workplace.
With this new Resolution, risk assessment will be divided in favour of colour-code areas, such as green/ blue for low-risk, yellow for medium-risk, orange for high-risk and red for very high-risk.
The only challenge that businesses might face is to be always updated with new information in their areas and it requires promptly and smart managing strategies. Hence, business must focus on long-term adaptability and resilience, including actively manage continuous change and adapt to new circumstances.
Firms need to be agile and rapidly develop capabilities
Marko Walde assumed that resuming operations after crisis was a difficult task for all enterprises, but proper strategies can help business recover from loss and get back on growth.
He proposed some important tactices be implemented as workplace is ready for full capacity, including:
- Stagger the capacity to the worksite. The first group of returning employees should include whose physical presence is deemed essential at the office.
- Create a cycling system and spread out the operational hours by minimizing the number of employees on-site at any given time.
- Reduce interactions with third-party staff, external parties, and customers and consider exploring digital platforms to lessen the risk of exposure to your staff.
- Implement measures that can maximize social distancing protocols and be sure to install hand sanitizer stations and dividers.
- Ask your staff to wear face masks indoors when keeping distances is not possible.
Importantly, in order to capitalize on the opportunity for digitization, firms need to be agile and rapidly develop capabilities that can help them survive the changes that environment imposes upon them, he recommended.
Such dynamic capabilities relate to specific strategic and organizational processes like product re-development; identifying and working with new partners in an ecosystem; and strategic decision making that create value within such dynamic environments by manipulating available resources into new value-creating strategies, Marko Walde underscored.
In addition, the transition from short-term cost reduction to focusing on more long-term investments and opportunities for growth requires promptly actions to balance financial status. Companies should considerably monitor financial performances over the coming months.
As the ultimate goal of Viet Nam is to recover as fast as possible from the crisis and aims to witness sustainable growth, it is essential to build up a smart and consistent model in the post COVID-19, assumed the Chief Representative of AHK Viet Nam.
It is unecessary to apply strict measures for the pandemic prevention in the whole provices or cities, he said, adding that all parties should be well informed in order to react in time and effectively.
Regarding the requirement that local authorities shall have to inform citizens and businesses at least 48 hours in advance if they plan to raise the pandemic assessment risk, Marko Walde underscored that it is essential to early avoid COVID-19 outbreak and earn much appreciation from the public as mentioned before, emphasizing the need to communicate on time on the updated regulations in new normal condition.
Therefore, local authorities can announce the situation and plans in advance for people and business to prepare appropiate responding actions and allows them to gradually shift their business operation before apply strict measures such as mobility restrictions and social distance, he added.
By Thuy Dung