U.S. vows to support Viet Nam in just energy transition
VGP - The U.S. will support Viet Nam in its just energy transition and climate change adaption while actively bolstering cooperation with Viet Nam in realizing its commitments made at the COP26.
November 08, 2022 4:10 PM GMT+7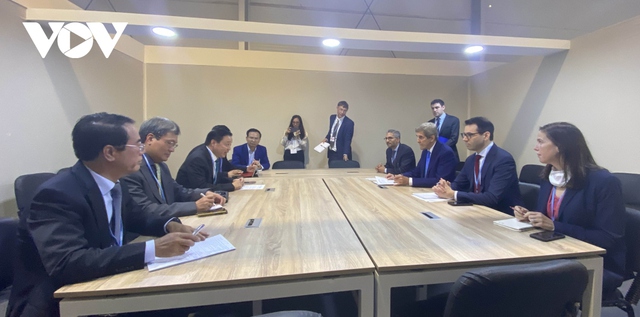 Special Presidential Envoy for Climate John Kerry made that above statement during his working session with Minister of Natural Resources and Environment Tran Hong Ha on the sidelines of the COP27 held in Sharm El Sheikh, Egypt, on November 7.
The Vietnamese Minister reaffirmed Viet Nam's commitment to net-zero carbon emissions target by 2050, adding that the nation has launched comprehensive measures in just energy transition to reach the goal.
He called for the assistance of the international community in fields of resources and technology to ensure power security to serve for economic development and reduce greenhouse gas emissions.
Both sides discussed challenges and measures to realize climate change adaption objectives and carry out the Paris Agreement to limit global temperature rise to well below 1.5 degrees Celsius.
Earlier, Prime Minister Pham Minh Chinh expressed his hope that the U.S. would continue its support for Viet Nam in negotiations on the just energy transition partnership while receiving John Kerry in Ha Noi on September 5.
John Kerry said he was impressed by Viet Nam's commitments at the COP26, as well as its approach in energy transition and climate change response, and believed that the international community also supports the country in the process with many financial sources.
He stressed that the U.S. Administration and he himself will further closely coordinate with Vietnamese ministries and agencies, and stand ready to provide assistance as much as possible to help the country develop renewable energy, reduce gas emissions and consolidate its infrastructure in a sustainable way.