WB Country Director: Mekong Delta regional master plan demonstrates whole-of-government approach
VGP - The Mekong Delta regional master plan for 2021-2030, with vision towards 2050, demonstrates the whole-of-government approach and a strong commitment to promoting sustainable development and enhancing the climate resilience of the Mekong Delta.
June 21, 2022 8:11 PM GMT+7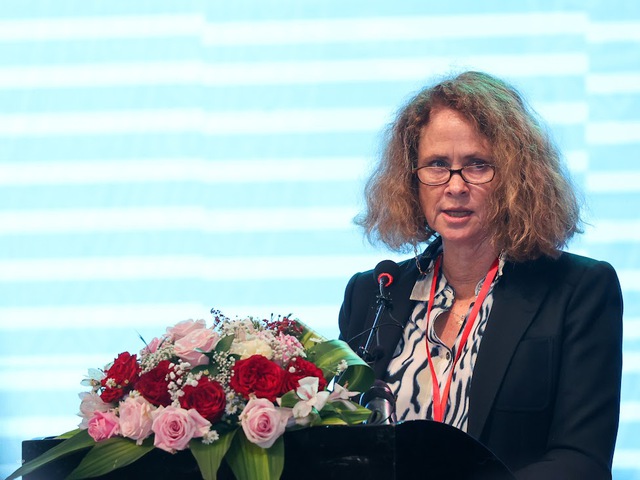 World Bank (WB) Country Director for Viet Nam Carolyn Turk made the above statement in her remarks at the conference on promulgation of the Mekong Delta regional master plan and investment promotion for 2021-2030 period in Can Tho City on June 21.

On behalf of the WB, she congratulated the Government of Viet Nam on reaching the important milestone of launching the highly anticipated master plan, adding that this is a fruitful outcome of the new strategic and holistic approach to regional development.
The Mekong Delta is considered as a global hotspot for climate change. In the context of increasing climate risks and the impending development impacts, the Mekong Delta regional master plan highlights the new mindset and new vision for the region.
It also presents the huge opportunities that exist for creating new values and bringing about a transformation and the potential for green, resilient, and inclusive growth and long-term prosperity of the region, Turk emphasized.
Moving from a vision and planning into implementation is always a challenge, and there are already some observable trends that need to be addressed to spearhead the transformation of the Delta's economy.
Many estimates suggest that increasing climate impacts may, in a year, cost the region up to US$70 million in the rainy season due to flooding and up to US$1.7 billion in the dry season due to drought and salinization.
In addition, the long-term COVID-19 pandemic impacts, global economic turbulence, and market uncertainty all make it an exceptional challenge for the region to achieve its ambitious goals and targets set in the master plan and contribute to Viet Nam's goal of reaching high-income status by 2045.
Master plan must be adaptive, flexible during implementation
For effective implementation of the master plan, Turk noted that the master plan should be accompanied by a strategic and implementable action program that clearly sets out the investment priorities within the socio-economic development timeframes and resources.
With an estimated financing need of at least US$57 billion between now and 2030 to implement the master plan's investments, it is important that Viet Nam should take a regional perspective that is focused on addressing the high urgency and high impact actions.
Carolyn Turk expressed her delight to see a strong emphasize on private sector engagement, suggesting the Vietnamese Government put in place the necessary enabling regulatory framework and institutional mechanisms for scaling up private finance.
In addition, implementing the master plan will necessitate a whole of government approach.
At national, sub-national and sectoral levels, institutional reforms and policies for further strengthening regional coordination including enhancing the mandate of the Regional Coordination Council to prioritize and implement regional investments, building effective platform for evidence-based decision making, and enabling cross-sectoral, integrated solutions become imperative.
Subsequent sectoral and provincial master plans under preparation should ensure cross-reference and coherence with this regional master plan, and where there are potential conflicts, duplications or gaps, clear remedial mechanism and measures need to be in place.
The master plan must be adaptive and flexible during its implementation. It is critical that an effective feedback mechanism is put in place to allow for continuous reflection, assessment, updating and revision.
A robust monitoring and evaluation framework is also needed to record and assess the progress being made and ensure quality of implementation.
WB continues to support Viet Nam as master plan comes into implementation
As a long-term trusted partner, the World Bank is honored to have supported the Government of Viet Nam in the important task to formulate the Mekong Delta regional master plan, the WB Country Director for Viet Nam underscored.
The WB has partnered, for example, with the Government of Australia in providing analytical underpinnings for the development of the master plan, policy development and strengthening regional coordination.
The WB will continue to support Viet Nam as the master plan comes into implementation, she said, committing to bringing global knowledge, convening power and financing to work in partnership with the whole-of-government, development partners, private sector, and other key stakeholders to achieve sustainable, climate resilient and inclusive growth for the Mekong Delta.
"Together we can take strategic decisions and implement bold and innovative actions to further unlock the region's potential", added Carolyn Turk.
The WB's team has commenced the preparation of an integrated program to operationalize the regional master plan- enhancing the resilience of Mekong Delta's people, livelihoods and assets, and improving regional productivity and competitiveness in the face of increasing climate and development challenges compounded by COVID-19 impacts.