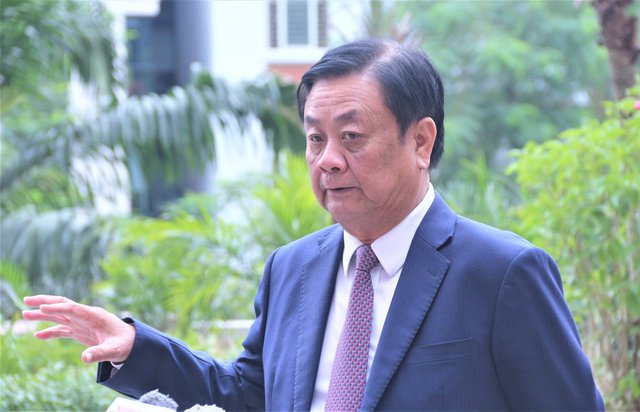 Minister Le made the assessment on agricultural development in 2022 and the post-pandemic period.
Escaping from "prolong curse"
One of the achievements seen in the agricultural sector over the past time is farmers, producers, and exporters graduated from the old-fashioned thinking of producing what they have available to producing what the markets want to the market standards.
And, they have really looked at how to generate more added value to the products they grow or produce.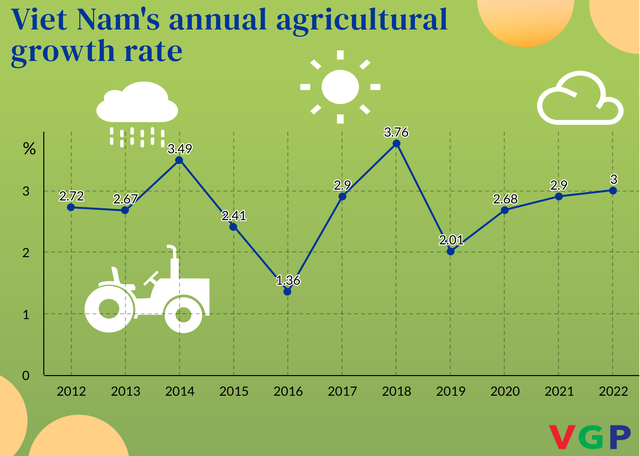 Last year, the agricultural sector's growth expanded by 3 percent, of which the agro-forestry-fishery sector earned US$53.2 billion in export turnover, US$3 billion higher than the Government's preset goal of US$50 billion.
The export of durians to China, fresh longans to Japan, and pomelos to the US and the UK, the markets with high standards, tell a lot about how the change in the mindsets of farmers and exporters worked, marking a milestone in Viet Nam's agricultural exports in 2022.
The Chinese market is Viet Nam's second largest agricultural product importer after the US market. Recently, fresh chili has been officially exported again along with 9 kinds of fruits and black jelly, which has also opened up a great opportunity for Vietnamese fruits to be officially exported to the market.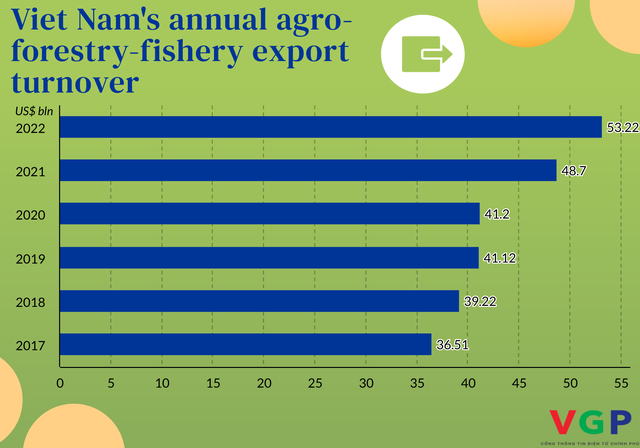 Viet Nam's main export staple, rice, has also made an impression in the international arena with its quality when it surpassed Thai rice - the biggest export competitor in the rice segment. Currently, both at home and in the international market, Vietnamese rice is gradually replacing Thai rice to the extent that Thailand's strategy has also had to be changed due to the growth of Vietnamese rice.
According to Minister of Agriculture and Rural Development Le Minh Hoan, the above result is a crossbreeding research journey of agronomists, a process of association, cooperation and investment of businesses with cooperatives, communes, farmers' organizations; the story of "4 houses" (farmers - government - scientists - entrepreneurs) in the fields. Since then, the value of rice is derived from quality and change, adaptation and suitability with market trends.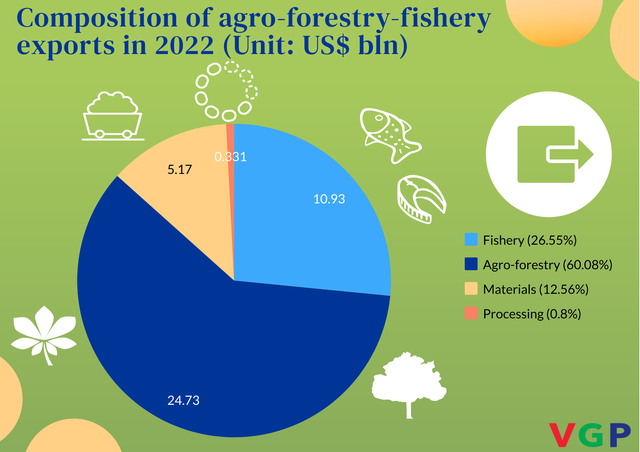 The group of products with an export value of over US$2 billion is coffee, rubber, rice, vegetables, cashew, shrimp, pangasius, and wood products.
The current structure of Viet Nam's agricultural export market is China having made up over 18 percent; Americas over 26 percent; Europe and some other markets close to 40 percent.
Forecasts for 2023
For 2023, the sector targets a growth rate of 3 percent, an agro-forestry-fishery export revenue of US$54 billion, new-style rural areas hitting 78 per cent, and a forest coverage stable at 42 percent.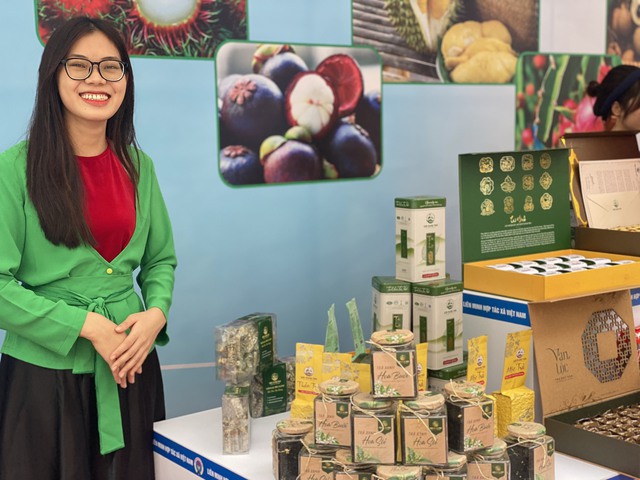 The country will continue facing numerous difficulties and challenges in 2023 though inflation is expected to decline globally in the year but nonetheless remain painfully high. Higher borrowing interest rates are projected to make agricultural enterprises find it harder to get access to the capital they need and cope with more risks.

Earlier, Prime Minister Pham Minh Chinh underlined the importance of coordinating with other ministries, sectors and localities to link producers with consumers; optimise free trade agreements, especially the EU-Viet Nam Free Trade Agreement (EVFTA) and the Comprehensive and Progressive Agreement for Trans-Pacific Partnership (CPTPP); continue removing barriers to enter new markets; and pay due attention to the domestic market.
In addition, it is also necessary to step up sustainable ocean farming and exploitation, strongly carry out recommendations to persuade the European Commission to lift the "yellow card" warning against IUU fishing.
It needs to increase forest production and development, effectively implement the national target program on new-style countryside building, and foster agricultural cooperation with international partners.
He believes that with the ministry and localities' determination and efforts, as well as farmers' and businesses' support, the sector will make stronger progress and gain more achievements in 2023./.