Agriculture-forestry-aquatic exports hit US$3 billion in Jan
VGP – Viet Nam earned US$3 billion from exporting agricultural-forestry-aquatic products in January 2020, equal to 84.3% of the same period last year, according to the Ministry of Agriculture and Rural Development.
February 05, 2020 3:06 PM GMT+7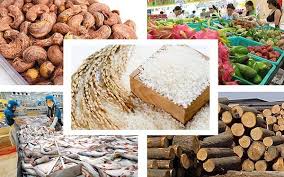 Illustration photo
Of the fiture, export of main farm products only attained US$1.3 billion, equal to 77.5% of the same period last year while the exports of rice and vegetables witnessed respective growths of 5.4% and 17.2%, reaching US$203 million and US$50 million.
The aquaculture and forestry exports during the month are equivalent to 87.5% and 84.4% of the same period last year, obtaining US$644 million and US$883 million, respectively.
The nation spent US$2.7 billion to import agriculture-forestry-aquatic products in the month, a year-on-year down of 0.4%. The trade surplus in January was estimated at nearly US$267 million, equal to 32.8% of January 2019.
The agricultural-forestry-aquatic exports are forecasted to face more difficulties and challenges due to the novel coronavirus (nCoV) epidemic that disrupts Viet Nam-China bilateral trade ties.
By Thuy Dung