Agriculture Minister: VN listed among world's top 15 aquatic-agriculture-forestry export value
VGP – Viet Nam's farm products were exported to 196 countries and territories, gaining US$190.5 billion during the 2016-2020 period, making the nation listed among the world's top 15 aquatic-agriculture-forestry export value.
January 29, 2021 9:42 PM GMT+7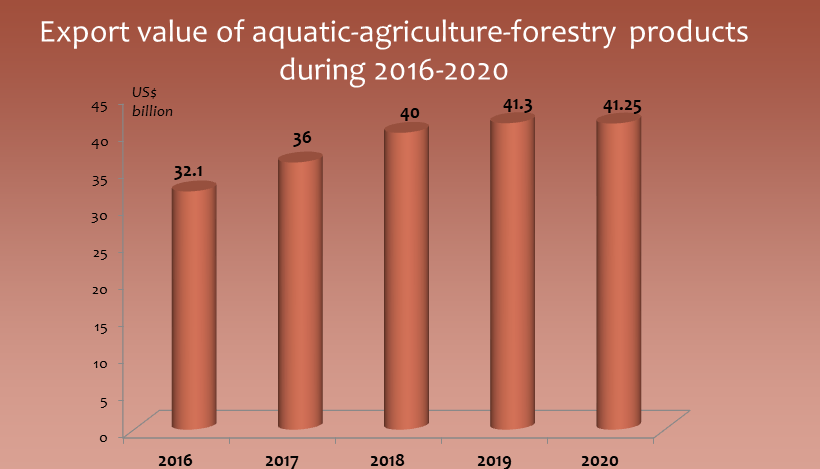 Viet Nam gains US$190.5 billion from exporting aquatic-agriculture-forestry products during 2016-2020.
Minister of Agriculture and Rural Development Nguyen Xuan Cuong made that statement at the debate session within the framework of the ongoing 13th National Party Congress, held at the Nationa
l Convention Center, Ha Noi, on January 27, 2021.
Cuong highlighted the achievements gained by the agriculture sector over the past five years, including the sector's average GDP growth of 2.62% per year, total export value in five years reaching US$190.5 billion, including US$41.25 billion in 2020 and the proportion of forest coverage in 2020 obtaining 42%.
As of the end of 2020, 62% of communes were recognized to meet new rural standards while the income of rural residents was estimated at VND43 million per person (nearly US$1,900).
As many as nine Resolutions, Conclusions and Directives, six Laws and 50 Decrees subject to agriculture and rural development were issued over the recent five years, creating a legal framework and crucial mechanism for the development of the sector.
A total number of 67 large-scale and modern farm processing plants, with the total investment capital of US$2.58 billion, were built and came into operation in five years.
Up to now, Viet Nam is home to 7,500 industrial-scale farm processing establishments associated with export.
During 2010-2020 period, the nation mobilized more than VND3 trillion for investing in new rural establishments. The income per capita in rural areas increased from VND12.8 million in 2010 to VND43 million in 2020.
Meanwhile, Viet Nam was among the five nations severely suffering from climate change, particularly in such key agricultural production regions as the Mekong Delta, Red River Delta and coastal areas, Cuong stressed.
By 2025, the sector aims to achieve a GDP growth of 2.5-3% per year and earn US$48-50 billion from exporting. The income per capita of rural residents will increase by 1.5 times compared to 2020.
By Thuy Dung