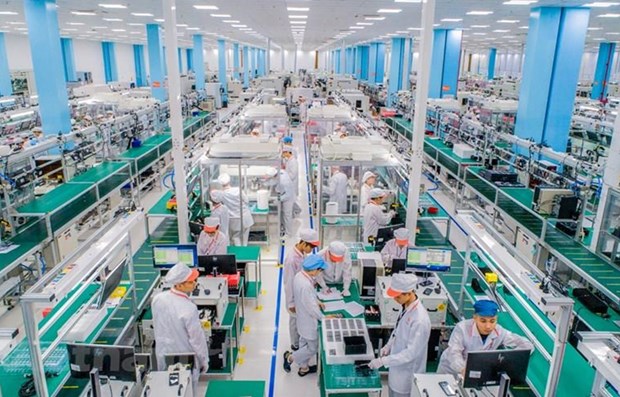 According to the survey, 27 percent of respondents said that Viet Nam's skilled workforce has been identified as one of the most attractive attributes for foreign businesses, pointing to the country's appeal as a manufacturing base. The same percentage are attracted by Viet Nam's growing consumer market, highlighting the appeal of increasing consumer prosperity.
Meanwhile, 23 percent of those held that the country's growing digital economy is also a key selling point for international business expansion. Many respondents said they were attracted by its high smartphone penetration rate and vibrant start-up sector.
Tim Evans, CEO of HSBC Viet Nam said, Viet Nam which has become known for its rapid economic growth also stands out as one of the top performers in the ASEAN region given its strong economic resilience during and after the COVID-19 pandemic.
This resilience coupled with its hard working skilled work force and competitive cost structures continues to attract strong foreign direct investment (FDI) flows into the country, Tim Evans added.
There is however more to Viet Nam than an FDI in, export out story. The country's fast growing middle class is also a real opportunity for international companies who are looking to tap into the consumer story that will see Viet Nam become the 10th largest consumer market in the world by 2030, he noted.
"Despite some short-term headwinds, Viet Nam remains an attractive destination for foreign businesses and we continue to see very strong interest in the Viet Nam story from customers throughout the HSBC network", shared the CEO of HSBC Viet Nam.
New research commissioned by HSBC shows that international businesses from nine major economies are increasingly optimistic about their growth prospects in Southeast Asia.
They expect sales in the region to grow by 23.2 percent over the next 12 months–versus 20.1 percent from last year's survey, and 4-5 times the rate of GDP growth expected in Southeast Asia. This highlights growing confidence in the region on the part of international companies.
HSBC commissioned an online survey of 3,509 businesses based in nine markets: mainland China, India, UK, France, Germany, US, Australia, Hong Kong, and GCC countries (United Arab Emirates, Saudi Arabia, Bahrain, Qatar, Oman and Kuwait).
Survey respondents were key decision-makers from companies with annual turnover of at least US$5 million who are already doing business in Southeast Asia or considering doing so. The survey ran from July 25-August 2, 2023./.