Prime Minister highlights ASEAN-India transportation connectivity
VGP - ASEAN Member States and India should enhance land, air and sea transportation connectivity, said Prime Minister Pham Minh Chinh.
September 07, 2023 8:18 PM GMT+7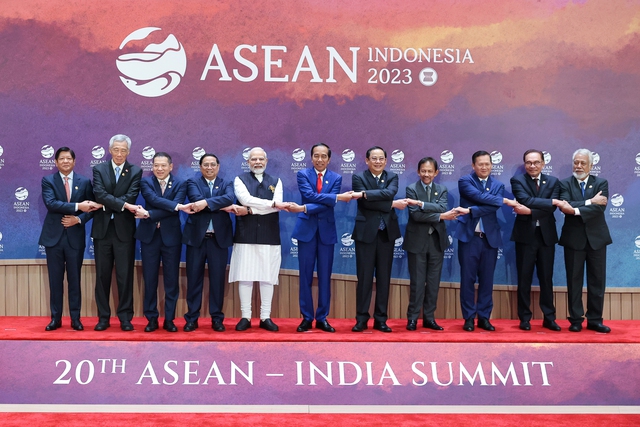 PM Pham made the above statement while addressing the 20th ASEAN-India Summit in Jakarta, Indonesia on September 7.
The Vietnamese leader expressed his belief that with the efforts of both sides, the comprehensive strategic partnership will be further strengthened in the upcoming time.
He called for enhancing economic and trade connectivity between ASEAN and India through effectively realizing the ASEAN–India Free Trade Area (AIFTA), ensuring production and supply chains, and making it easier for each side's commodities and services to get access to their markets.
Pham urged both sides to soon complete highway projects connecting India and ASEAN as well as bolstering collaboration in digital transformation, facilitating the application of innovation, and creating opportunities for both sides' technology enterprises.
With the spirit of "leaving no one behind", the Prime Minister suggested India speed up the implementation of the Initiative for ASEAN Integration (IAI) and Mekong Subregion development, via the Mekong-Ganga Cooperation, to further deepen bilateral cooperation in carrying out sustainable development goals, contributing to promoting inclusive growth and equitable development.
Pham called on partners to advocate the central role of ASEAN and join hands with the bloc in promoting dialogues, consultation, and trust building to cope with common challenges, and forge an open, transparent, inclusive and international law-based regional architecture.

The Prime Minister and other ASEAN leaders reaffirmed the principled stance on the East Sea issue, reiterating the need to ensure security, safety, and freedom of navigation and aviation in the East Sea for the sake of all the nations.
He called on partners to advocate the full and effective implementation of the Declaration on the Conduct of Parties in the East Sea (DOC), building an effective and substantive code of conduct (COC) in line with international law and the 1982 United Nations Convention on the Law of the Sea (UNCLOS), and work to build the East Sea into a sea of peace, stability, cooperation and development.
The summit adopted joint statements on maritime cooperation and enhancing food security in times of crisis.
At the summit, leaders agreed to focus on sustainable maritime cooperation, maritime economy, anti-terrorism, prevention of transnational crime, improvement of health capacity, enhancement of connectivity, science and technology application, digital transformation, energy transition, and climate change response.
Indian Prime Minister Narendra Modi announced the establishment of the ASEAN-India fund for Digital Future focusing on cooperation in digital transformation and financial connectivity.
Leaders also discussed international and regional issues of common concerns such as the East Sea issue, Myanmar, the Korean Peninsula and the Ukraine conflict.
They underscored the importance of peace, security and stability in the region, which is the prerequisite condition, serving for efforts of inclusive growth and sustainable development.
They voiced their support for ASEAN's efforts, balanced and objective approaches and principled stances on these issues.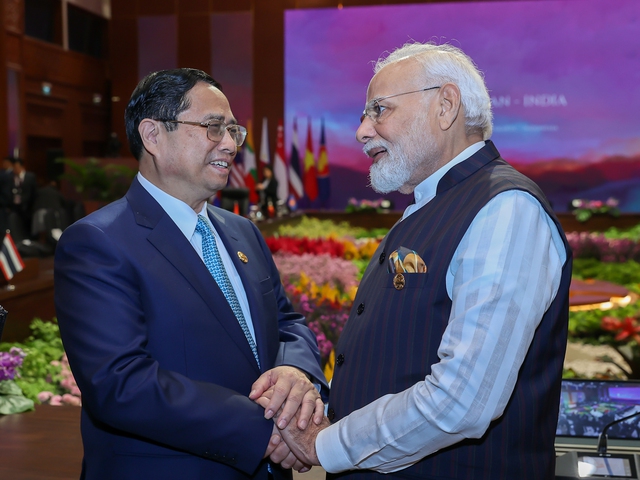 The same day, Prime Minister Pham had a bilateral meeting with his Indian counterpart Narendra Modi.
At the meeting, both leaders said that the two nations should promote all-level delegation exchanges and boost collaboration in new sectors such as digital transformation, energy transition, green and sustainable economy development to bring interests for both sides.
They pledged to strengthen security-defense cooperation, a crucial pillar in the Viet Nam-India comprehensive strategic partnership.
The two Prime Ministers agreed to task their ministries, agencies and localities to enhance close coordination to complement the strengths of each economy, remove difficulties for businesses, and promote two-way trade.
They vowed to assign their aviation agencies to consider increasing more direct flights between big cities to meet their people's travel demands.
Prime Minister Modi acknowledged the Vietnamese leader's suggestion on signing a memorandum of understanding on e-commerce, and a bilateral economic cooperation agreement and limiting trade barriers.
He affirmed that he will encourage India's big corporations to pour more investment in Viet Nam./.