Prime Minister leaves Ha Noi for 43rd ASEAN Summit
VGP - Prime Minister Pham Minh Chinh and his entourage left Ha Noi on Monday morning for the 43rd ASEAN Summit and related meetings in Jakarta, Indonesia at the inviation of Indonesian President Joko Widodo.
September 04, 2023 9:20 AM GMT+7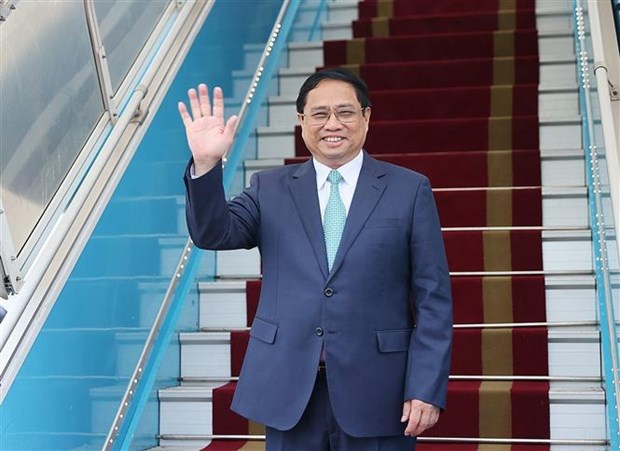 The Vietnamese Government chief is accompanied by Minister of Agriculture and Rural Development Le Minh Hoan, Minister of Industry and Trade Nguyen Hong Dien, Minister of Labor, Invalids and Social Affairs Dao Ngoc Dung, Deputy Minister of National Defense Le Huy Vinh, Deputy Minister of Public Security Luong Tam Quang, Vice Chairman of the Government Office Nguyen Xuan Thanh, Deputy Minister of Foreign Affairs Do Hung Viet, Deputy Minister of Planning and Investment Nguyen Thi Ngoc Bich and Ambassador Nguyen Hai Bang, permanent representative of Viet Nam to ASEAN.
The events will take place in Jakarta from September 4 to 7, marking the culmination of Indonesia's ASEAN chairmanship in 2023. In line with the chair's theme of "ASEAN Matters: Epicentrum of Growth", the summit provides an opportunity for ASEAN leaders to discuss and chart the directions for strengthening the ASEAN Community and making the bloc the focal point of growth amidst the complexities and changes in the current global and regional landscape.
With its readiness, proactivity, responsibility, Viet Nam has made significant contributions to the collective success of the bloc's conferences this year.
The message Viet Nam wants to convey is a spirit of solidarity and determination to make substantial and effective contributions to building the ASEAN Community. This also highlights the consistent approach of the Vietnamese Party and State, considering ASEAN as an integral part of its foreign policy.
Sharing insights into efforts and contributions of the Vietnamese Delegation to ASEAN from the beginning of 2023, Viet Nam was prepared to participate and effectively contribute to all bloc activities, said Ambassador Nguyen Hai Bang, permanent representative of Viet Nam to ASEAN.
As the lead agency responsible for negotiating many documents throughout the year, the Vietnamese Delegation has worked to proactively put forth initiatives.
Viet Nam officially joined the Association of Southeast Asian Nations (ASEAN) on July 28, 1995.
Viet Nam promoted its role as a nucleus for unity and cohesion, the country actively promoted the accession of Laos, Myanmar (in 1997), and Cambodia (in 1999) to the bloc shortly after becoming a member.
These efforts contributed to realising the idea of an ASEAN encompassing all 10 Southeast Asian countries, creating a significant transformation within the organisation and the regional situation at that time.
Viet Nam has made substantial contributions to defining ASEAN's goals, development directions, and major policies, while playing a part in building and passing several crucial documents such as the ASEAN Vision 2020, ASEAN Charter, and ASEAN Community Vision 2025.
Given complex global and regional dynamics, Viet Nam has participated in shaping the region's principles and "rules of the game", joining ASEAN's efforts to ensure peace, security, stability, dialogue, and cooperation.
With other member states, Viet Nam has proactively and vigorously promoted community-building across all pillars, from politics and economics to culture and society, with a strong emphasis on enhancing ASEAN connectivity and expanding relations with global partners./.