Prime Minister discusses regional and international issues at 41st ASEAN Summit
VGP - Vietnamese Prime Minister Pham Minh Chinh underscored the importance of maintaining solidarity, promoting inner strength, a sense of responsibility, taking a balanced and subjective approach, and consistently complying with agreed principles for ASEAN when addressing the bloc's 41st Summit in Phnom Penh, Cambodia on November 11.
November 11, 2022 4:47 PM GMT+7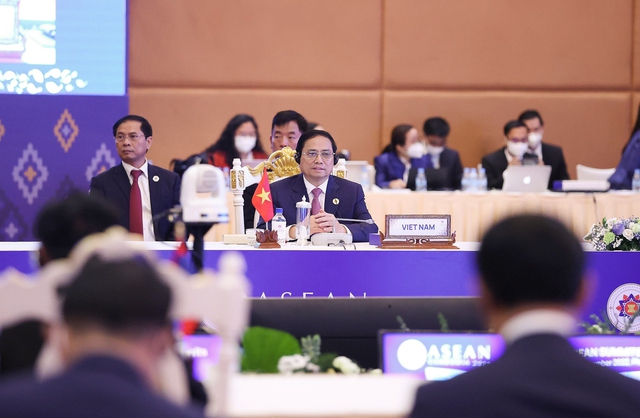 The 41st ASEAN Summit focuses on the bloc's external relations, regional architecture, regional and international issues of shared interests..
These principles have made ASEAN attractive to its foreign partners, garnering their attention to strengthening and upgrading their cooperative relations with the grouping, said the Prime Minister.
The Prime Minister suggested that "ASEAN should strengthen coordination with its partners in joint efforts to contribute to peace, security and development, boosting intra-regional strategic cohesion so that our partners truly respect and support the central role of ASEAN, are committed to long-term cooperation with ASEAN through ASEAN-led mechanisms."
As the coordinator of ASEAN-the Republic of Korea relations, Viet Nam will cooperate with other countries to add more substance to the relations, Prime Minister Pham Minh Chinh stressed.
Regarding international and regional issues, Pham suggested that ASEAN should be brave, ingenious, harmonious and balanced in dealing with hot issues, and shared with ASEAN's views on the East Sea issue, Myanmar, and Russia-Ukraine issues.
The Prime Minister emphasized the bloc should continue to be persistent in implementing the Five-Point Consensus, supporting Myanmar, a member of the ASEAN family and figure out feasible, sustainable solutions to help Myanmar overcome difficulties.

He also shared common concerns about the situation in Ukraine, highlighted the meaning and value of peace, and affirmed that the respect for independence, sovereignty and territorial integrity is the fundamental principle in international relations and the prerequisite for building international peace and security./.