ASEAN leaders kick off summits in Cambodia
VGP – The opening ceremony of the 40th and 41st ASEAN Summits took place in Phnom Penh, Cambodia on Friday morning.
November 11, 2022 12:08 PM GMT+7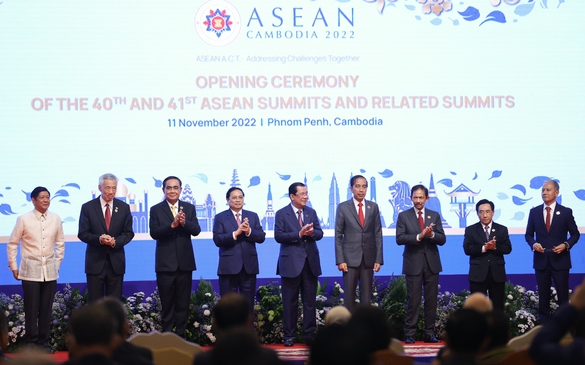 The event was attended by Vietnamese Prime Minister Pham Minh Chinh and other leaders of ASEAN Member States, ASEAN Secretary General, and representatives of international organizations and partners.

In his opening remarks, Cambodian Prime Minister Samdech Techo Hun Sen highlighted the significance of the 55th founding anniversary of the bloc. ASEAN has gone a long journey of connectivity, cooperation and cohesion among the member countries for the common goal of peace, self-reliance and development.
Under the theme "Addressing Challenges Together, the 40th and 41st summits provide an opportunity for ASEAN member countries to review the past achievements and reiterate their determination to strive for a united, self-reliant, inclusive, and rule-based ASEAN.
The summits will adopt several documents, including the Commemorative Declaration on the 55th founding anniversary of ASEAN and the ASEAN connectivity agenda beyond 2025, which set out major policy orientations to boost economic cooperation, development and connectivity, and to maintain the central role of ASEAN in the regional architecture.
Hun Sen said ASEAN needs to give the highest priority to ensuring solidarity, unity and central role in order to surmount challenges and build a resilient community for their peoples while promoting its values that have helped the bloc to create its successes over the last 55 years.