Prime Minister calls on ASEAN+3 countries to take lead in multilateralism, trade liberalization
VGP - ASEAN Plus Three countries should take the lead in multilateralism, trade liberalization, to all opportunities, and promote connectivity.
November 12, 2022 4:16 PM GMT+7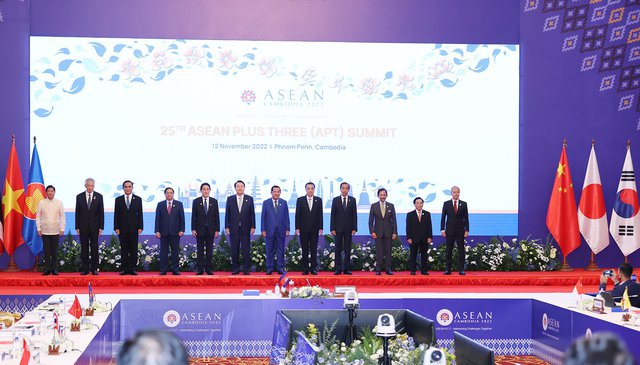 Prime Minister Pham Minh Chinh made that above statement while attending the 25th ASEAN Plus Three Summit (including 10 ASEAN nations, and three Northeast Asian countries: China, the Republic of Korea and Japan - known as ASEAN+3 mechanism) in Phnom Penh, Cambodia on November 12 within the frameworks of the 40th and 41st ASEAN Summits and Related Summits.
Regarding cooperation orientation for ASEAN+3 in the upcoming time, Pham emphasized the need to coordinate closely in enforcing the 2023-2027 cooperation plan based on three pillar.
Pham stressed that resumption of safe trade and reopening of the economy should be the top priority.
ASEAN+3 countries should double efforts in climate change adaption and sustainable development via strengthening information exchanges, experience sharing and policy coordination, particularly in such spheres of technology transfer, digital transformation and green economic development, he noted.
The Vietnamese Prime Minister voiced support for the establishment of a green growth cooperation mechanism of ASEAN Plus Three countries.
He backed the establishment of a Secretariat in a bid to ensure effective implementation of the Regional Comprehensive Economic Partnership (RCEP) and called for fostering cooperation in infrastructure development, human resource, labor and people-to-people exchanges.
ASEAN+3 countries also need to uphold the spirit of frank dialogue, sincere cooperation, friendly neighborliness, benefit harmonization and risk sharing, contributing to building healthy and rule-based competition and reducing differences, said Prime Minister Pham.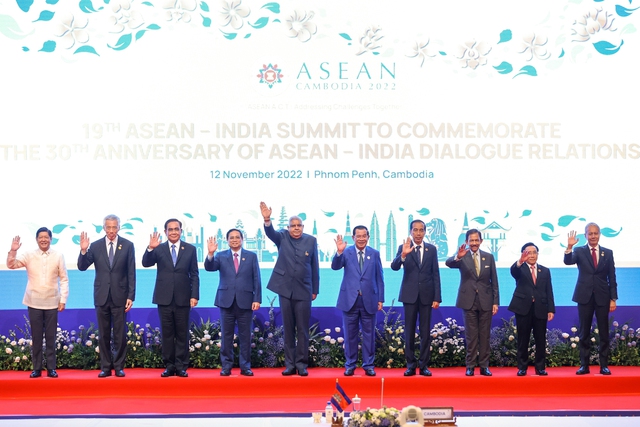 *At the 19th ASEAN-India Summit to commemorate the 30th anniversary of ASEAN-India dialogue relations, Prime Pham Minh Chinh reiterated that ASEAN always attaches importance to developing the relationship with India across all sectors.
He welcomed India to actively realize its Act East Policy and bolster collaboration with ASEAN and the region.
Pham urged ASEAN and India to make more responsible and effective contributions to peace, security, stability and prosperity in the region and ensure regional law-based order, equal behaviors, mutual respect and cooperation for common development
Both ASEAN and India should give high priority to sustainable maritime cooperation and suggested that India continue to open its door wider for agricultural products from ASEAN member countries.
Pham underlined the importance of expanding cooperation in technology application, human resource training, digital transformation, green transition and circular economy.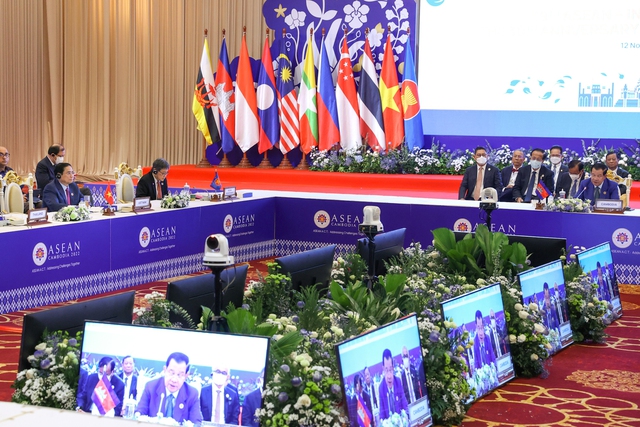 *At the 2nd ASEAN-Australia Summit, Prime Minister Pham advocated the initiative of Australia to hold a summit to commemorate the 50th anniversary of ASEAN-Australia relations in Australia in 2024.
To further strengthen the ASEAN-Australia Comprehensive Strategic Partnership, the Vietnamese leader underscored the necessity of resuming cooperation activities and boosting trade and investment exchanges, including upgrading the Agreement Establishing the ASEAN-Australia-New Zealand Free Trade Area (AANZFTA).
He recommended Australia provide technical assistance and open its market for farm products from ASEAN as well as accelerate quarantine and custom clearance at border gates.
Pham called on Australia to continue support for the ASEAN Center for Public Health Emergencies and Emerging Diseases (ACPHEED).
He asked for Australia's assistance in boosting strategic infrastructure development, and active implementation of the Mekong-Australia Partnership framework, and support to efforts to promote the growth of the Mekong sub-region, including Viet Nam's Mekong Delta region.
Following the event, leaders from ASEAN and Australia adopted the Declaration of cooperation on the basis of ASEAN Outlook on the Indo-Pacific (AOIP).