Prime Minister attends ASEAN-Canada Summit, meets Canadian counterpart
VGP - Prime Minister Pham Minh Chinh emphasized that economic cooperation for common prosperity should be the priority of the strategic partnership freshly established between ASEAN and Canada.
September 07, 2023 3:28 PM GMT+7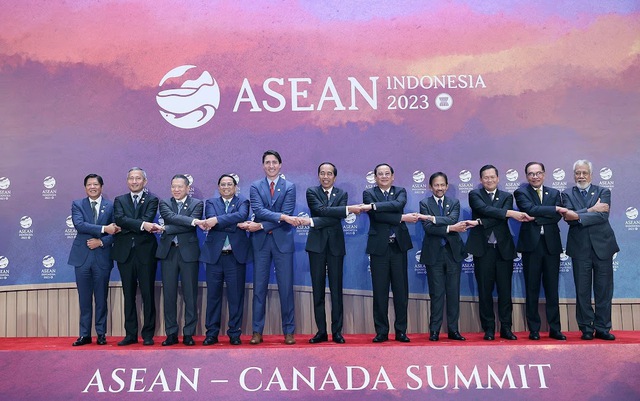 Pham made the above statement while attending the ASEAN-Canada Summit in Jakarta, Indonesia, on September 6.
Addressing the event, he asked for promoting trade, investment, businesses' connectivity, supply chain stabilization, and access to each other's markets, calling on Canada to provide more optimal conditions for goods of Viet Nam and other ASEAN countries to enter its market.
Pham suggested fostering collaboration in emerging fields such as digital transformation, green transition, energy transition, food security ensuring, and climate change response.
At the summit, ASEAN and Canada set up their strategic partnership and approved a statement on enhancing food security and nutrition cooperation in crises.
Prime Minister Justin Trudeau affirmed that Canada attaches great importance to its relation with ASEAN, and strongly supports the bloc's centrality.
The trade value between ASEAN and Canada reached US$23.1 billion in 2022. Canada poured US$3.63 billion in foreign direct investment in the region.
At the summit, leaders vowed to promote stronger ties in digital transformation, food security, education, human resource training, climate change adaption, and narrow the development gap.
Pham and other ASEAN leaders called on partners to support the bloc's principled stance on the East Sea, and full and effective implementation of the Declaration on the Conduct of Parties in the East Sea (DOC).
They called on partners to advocate the bloc to soon achieve an effective and substantive code of conduct (COC) in the East Sea that is in line with international law and the 1982 United Nations Convention on the Law of the Sea (UNCLOS), and work to build the East Sea into a sea of peace, stability, cooperation and development.
The partners voiced their support for ASEAN's role, efforts and stance and pledged to coordinate closely to promote regional peace, security, stability, and development.
Pham recommended the partners to support increasing dialogue, cooperation and trust building; resolve disputes by peaceful means; and uphold international law with a sense of responsibility and respect for one another's legitimate interests.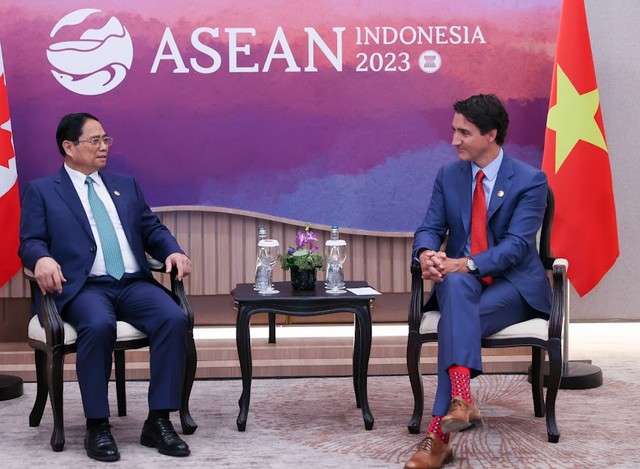 The same day, Prime Minister Pham had a meeting with his Canadian counterpart Justin Trudeau.
Trudeau hailed significant progress in the Viet Nam-Canada relations, especially in economy and trade, following the sides' signing of the Comprehensive and Progressive Agreement for Trans-Pacific Partnership (CPTPP).
Canada plans to send a business delegation led by its trade minister to Viet Nam next year to explore trade and investment opportunities, said Trudeau, expressing his readiness to support Viet Nam in fulfilling commitments related to labor and the environment within the CPTPP.
For his part, Pham expected that Canada will make it easier for Vietnamese products to get access to the nation, and provide more scholarships for Vietnamese students.
He underlined the need to promote bilateral cooperation in such new areas as digital transformation, green growth, climate change adaptation, and science-technology as well as tourism cooperation and people-to-people exchange.
Both leaders pledged to strengthen coordination at multilateral forums, including the implementation of the ASEAN-Canada strategic partnership framework and international commitments related to climate change response./.