President receives Cambodian top legislator
VGP - President Nguyen Xuan Phuc hosted a reception for President of the Cambodian National Assembly Samdech Heng Samrin in Ha Noi on September 13.
September 13, 2022 6:19 PM GMT+7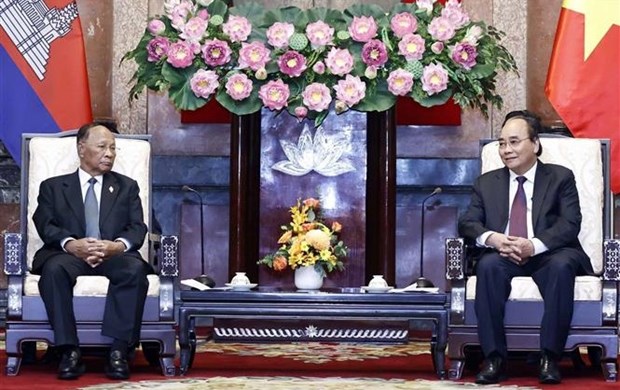 Nguyen expressed his delight at the growing ties between Viet Nam and Cambodia, expressing his wish that Heng Samrin will continue efforts to further promote the bilateral ties in the future.
Despite the COVID-19 pandemic, two-way trade still hit nearly US$10 billion last year, up 80 percent on year. Viet Nam now has 188 projects worth US$2.8 billion in Cambodia, becoming the biggest ASEAN investor and among the top five in the neighboring country.
Both sides are striving to accelerate the border demarcation to build a borderline of peace, friendship, cooperation and sustainable development, he said.
On the occasion, the host suggested both sides maintain the exchange of high-level visits and cooperation mechanisms via all channels.
The Vietnamese President expected the two legislatures will further uphold their role to perfect laws, thus facilitating bilateral ties in various areas, especially economic connectivity, education cooperation, and promotion of public awareness of bilateral traditional ties, particularly among the young generations.
Heng Samrin, for his part, stressed that the Cambodian legislature always stands side by side with Viet Nam.
As this year marks the 55th anniversary of diplomatic ties, he wished the two countries' relevant agencies will jointly organize practical activities to foster their traditional friendship.
He took the occasion to thank the Vietnamese Party, State and people for helping Cambodia build working offices of the Cambodian NA's Secretariat and committees in Phnom Penh.
The Cambodian Party and people always bear in mind the dedication and sacrifice by Vietnamese voluntary soldiers and experts in their struggle for national liberation from Pol Pot genocidal regime, he said.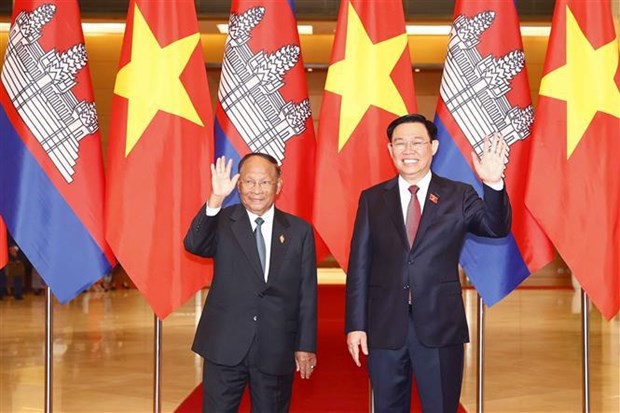 *Earlier on September 12, National Assembly (NA) Chairman Vuong Dinh Hue held talks with President of the Cambodian NA Samdech Heng Samrin in Ha Noi.
At the talks, Vuong suggested both sides soon complete the drafting of Master Plan for connecting Vietnamese and Cambodian economies till 2030, sign a border trade agreement and effectively carry out the Memorandum of Understanding on border trade infrastructure connectivity and development, the Agreement on Investment Encouragement and Protection, and the Agreement on Double Taxation Avoidance.
He affirmed that the Vietnamese legislative body will support Cambodia to successfully host the 43rd General Assembly of the ASEAN Inter-Parliamentary Assembly (AIPA-43) in November.
The top Vietnamese legislator suggested the two countries and legislative bodies create more favorable conditions for their enterprises to invest and do business stably in respective country.
Regarding cooperation at multilateral forums, Vuong suggested the two sides strengthen exchanges and consultations on strategic issues related to security and development of the region as well as of each country; make efforts to maintain solidarity and unity in ASEAN and affirm its central role in regional security issues; and uphold ASEAN's principled stance on East Sea-related issues.
For his part, Heng Samrin proposed the Vietnamese legislature offer personnel training to its Cambodian counterpart, share experience in information and agriculture technology to turn the Mekong River into a food security area of the region and the world, and contribute to humanitarian activities.
Cambodia protects legitimate rights and interests of people of Vietnamese origin as well as Vietnamese enterprises investing and doing business legally in the country, he noted.
The two sides pledged to continue enhancing coordination mechanisms at multilateral forums such as AIPA, the Inter-Parliamentary Union (IPU) General Assembly, the Asia-Pacific Parliamentary Forum (APPF) and other multilateral parliamentary organizations; and support each other's stance on regional and international issues of common concern.