Viet Nam wins Asian weightlifting golds
VGP — Viet Nam won golds and silvers at the 2023 Asian Weightlifting Championship on May 5 in South Korea.
May 06, 2023 8:51 AM GMT+7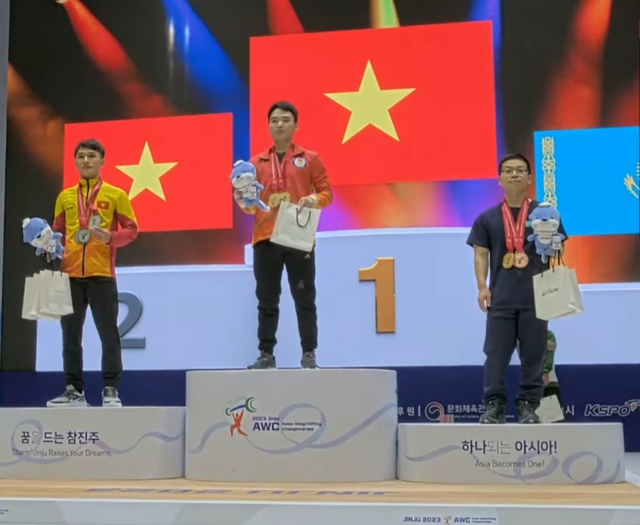 The golds went to 18-year-old Do Tu Tung in the men's 55kg categories.

Tung was not successful in the snatch event although he was the No 1 seed. He lifted 116kg and finished fourth in the ranking.
However, the teenager strongly came back in the clean and jerk event. His best lift of 147kg was out of others' reach. He secured the first gold.
In the total, his result of 263kg was enough to bring him the second gold.
Tung is currently a rising star lifter of Viet Nam. He has dominated the world junior community in 2022 with three gold medals. Earlier, he won and set record at the world junior tournament and Asian junior championship in 2018 and 2019.
With gold medals from the South Korean event, Tung will collect points for his Olympic campaign in 2024.
His teammate Ngo Son Dinh also competed in this event. However an injury prevented Dinh from getting high result.
He finished second after Tung, grabbing three silvers with 117kg in snatch, 143kg in clean and jerk and 260kg in total.
Arli Chontey of Kazakhstan won a gold in the snatch with a 117kg lift. He also secured two bronzes in clean and jerk (141kg) and total (258kg).
Mansour Al-Saleem of Saudi Arabia took a bronze in the snatch on 116kg.
Also on May 5, two lifters Khong My Phuong (women's 45kg) and Nguyen Hoai Huong (women's 49kg) failed to make top three in their classes.
A 10-strong Việt Nam team vies for medals against nearly 300 competitors in 10 weight categories each for men and women until May 13.
Ten categories for women are from 45kg to over-87kg while the men are competing from 55kg to over-109kg categories./.