National action month on gender equality launched
VGP - The National Action Month on Gender Equality and Gender-based Violence Prevention and Response was launched in Ha Noi on November 10.
November 11, 2023 6:08 PM GMT+7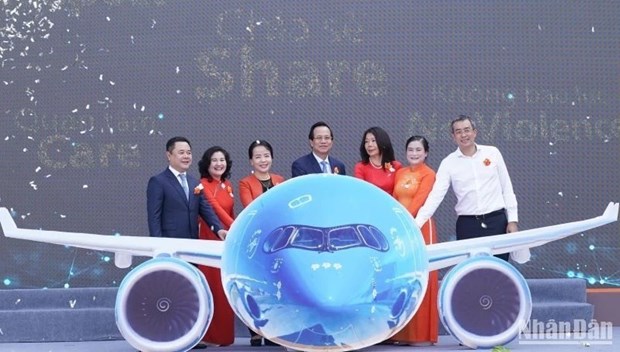 The event was organized by the Ministry of Labor, Invalids and Social Affairs (MoLISA), in collaboration with the United Nations Office in Viet Nam and the national flag carrier Viet Nam Airlines.
Addressing the event, Minister of Labor, Invalids and Social Affairs Dao Ngoc Dung affirmed Viet Nam's commitments to ensuring gender equality in general, and increasing women's empowerment in particular; and emphasized the important role of communications on gender equality.
To settle gender inequality in Viet Nam, he said, in addition to laws, policies and programs to ensure social welfare, communication is identified as the most important task and solution to raise awareness, change behavior, contribute to eliminating prejudice, and move towards achieving substantive gender equality.
The action month has been held annually from November 15 to December 15 since 2016. To date, more than 10 million turns of people have gained access to messages of the program, contributing to raising their awareness of gender equality and gender-based violence prevention and response.
Viet Nam has climbed 11 places on the latest World Economic Forum (WEF)'s Global Gender Gap Index over the past year, marking a rise from 83rd to 72nd place out of 146 countries, with a score of 0.711.
At the event, Viet Nam Airlines and the UN Office in Viet Nam signed a commitment to participate in the Women's Empowerment Principles (WEPs)./.