MDR promotes sustainable agricultural development in response to climate change
VGP - Deputy Prime Minister Le Van Thanh has recently signed Directive No.08/CT-TTg (Directive 08) on some tasks to promote sustainable agricultural and rural development in the Mekong Delta in response to climate change.
June 20, 2022 8:02 PM GMT+7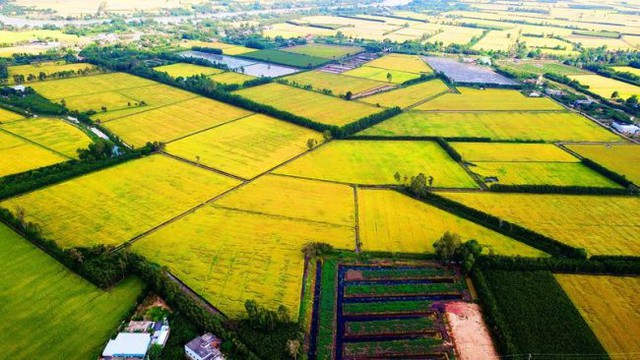 Under Directive 08, the Government requested relevant ministries and departments to study and put forward mechanisms and policies to realize the objectives and orientations for agricultural and rural development in the Mekong Delta.
Especially, measures must focus on directing and implementing the regional planning scheme for the 2021-2030 period, with a vision to 2050, the strategy for sustainable agricultural and rural development for the 2021-2030 period, with a vision to 2050, the national strategy for natural disaster prevention and control to 2030, with a vision to 2050, the agricultural restructuring plan for the 2021-2025 period, the national target program on building new countryside for the 2021-2025 period, the Master program for agricultural development in the Mekong Delta to adapt to climate change, and related strategies, programs, schemes, master plans, and plans for agricultural and rural development in the Mekong Delta region.
Specific duties
The Ministry of Agriculture and Rural Development (MARD) was tasked to work with the People's Committee of Can Tho City and relevant agencies to promptly submit to the Prime Minister detailed regulations on the establishment, organization, and operation of the Center for linking production, processing, and consumption of agricultural products in Can Tho City, organize activities to coordinate agricultural and rural development in the Mekong Delta.
A sustainable production project of 1 million hectares specializing in high-quality rice cultivation in the Mekong Delta will be built to improve the value and income of people.
The MARD is also responsible for ensuring food security, serving processing and export; implementing the "one commune, one product" program attached with agricultural and rural tourism development, conservation, and promotion of traditional culture.
The Ministry of Natural Resources and Environment (MNRE) was assigned to take prime responsibility and work with relevant ministries, departments, and agencies in proposing amendments to land policies and laws in the direction of developing the market for land-use rights in agriculture.
The MNRE is also in charge of crafting favorable conditions on the concentration and accumulation of agricultural land for competitive and highly efficient large-scale commodity agricultural production, especially high-tech and organic agriculture.
In addition, the ministry was entrusted to set agricultural land transfer quotas of households and individuals, establish favorable mechanisms for farming households, cooperatives, cooperative groups, and enterprises to access agricultural land to form concentrated agricultural production and processing zones.
The Mekong Delta comprises Can Tho City and the provinces of An Giang, Dong Thap, Long An, Tien Giang, Vinh Long, Ben Tre, Tra Vinh, Soc Trang, Hau Giang, Bac Lieu, Ca Mau, and Kien Giang.
As one of the largest and most fertile deltas in Southeast Asia and the world, the Mekong Delta region accounts for 31.7 per cent of the agricultural sector's GDP.
It contributes up to 50 percent of the country's rice output, 65 per cent of aquaculture output and 70 percent of fruit output. It also makes up 95 per cent of rice volume for export and 60 per cent of fish volume for export.
However, the development of the region still fails to meet its potential due to some limitations and challenges such as the slow transition of agricultural production mindsets and small and fragmented agricultural production. Agricultural production is not stable, still depending on weather and consumption markets while lacking tight linkages between production, processing and consumption.
Agricultural production is also affected by objective factors such as climate change and seawater rises, as well as the exploitation and use of water resources of countries upstream of the Mekong River.
On June 18, Prime Minister Pham Minh Chinh signed Decision No. 78/NQ-CP issuing an action plan to implement Resolution No. 13-NQ/TW dated April 2, 2022 of the Politburo on orientations for socio-economic development and defense and security safeguarding in the Mekong Delta until 2030, with a vision to 2045./.