INFOGRAPHICS: Monthly basic wage floor of public workers
VGP - The base salary for civil servants, public employees, and members of the armed forces will increase from VND 1.49 million (US$63.5) to VND 1.8 million (US$76) per month from July 1, 2023.
May 18, 2023 9:01 AM GMT+7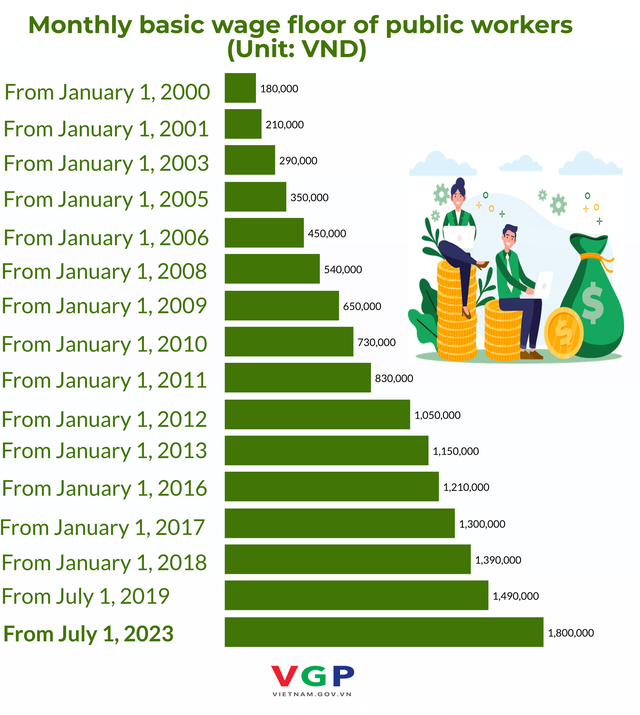 The basic wage will be a basis for calculating salaries of employees in the State-run sector by multiplying it with their corresponding coefficient. As a result, new graduates entering the State sector will get a salary of Level 1 with a coefficient of 2.34, equivalent to a monthly wage of VND 3.48 million at present.
This is the second base salary hike since July 1, 2019, after a three-year delay due to the COVID-19 pandemic.
The wage hike is considered an urgent issue in Viet Nam, as nearly 40,000 civil servants quitted their jobs in the public sector, primarily in education and healthcare, from January 1, 2020 to June 30, 2022.
Nine group of subjects will receive a base salary increase including (1) cadres and civil servants from the central to the district level, (2) commune-level cadres and civil servants, (3) public employees in non-business units, (4) persons working under the labor contract regime in agencies, organizations, and units of the Party, State, Vietnam Fatherland Front, socio-political organizations, and armed forces, (5) people working in the staff quota in associations are supported by the state budget for operating expenses, (6) officers, professional soldiers, non-commissioned officers, soldiers, defense workers, and employees of the Viet Nam People's Army, (7) officers, non-commissioned officers on salary, non-commissioned officers, conscripts, and public security workers of the People's Public Security, (8) people working in cipher organizations and (9) part-time workers at communes, villages, and residential groups./.