National Assembly passes higher basic wage for public workers
VGP - Basic wage of civil servants and public employees will increase from VND1.49 million (US$60) per month to VND 1.8 million (US$73) from July 1, 2023, according to a Resolution approved by the National Assembly.
November 11, 2022 5:09 PM GMT+7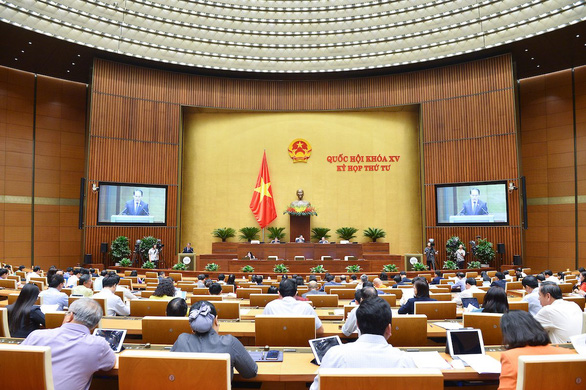 The basic wage shall be the basis for calculating salaries of employees in the state-run sector by multiplying it with their corresponding coefficient. As a result, new graduates entering the state sector would be subject to salary level 1 with a coefficient of 2.34, equivalent to a monthly wage of VND3.48 million (US$140).
This is the second base salary hike since July 1, 2019, after a three-year delay due to the COVID-19 pandemic.
Under the newly-passed resolution, wage of retired public workers will increase by 12.5 percent. The standard of allowance for people with meritorious services is guaranteed not to be lower than that of poor households in urban areas and increases by 20.8 percent.
Suitable time for basic wage hike
On October 20, Minister of Finance Ho Duc Phoc presented the Government's plan to allocate VND 12.5 trillion (US$ 509 million) for wage reform, including a 20.8 percent increase in the basic wage of civil servants from VND 1.49 million to VND 1.8 million from July 1, 2023.
The wage hike is considered an urgent issue as Viet Nam is facing rising inflation pressure due to rising prices of fuel and other commodities as a result of the Ukraine conflict.
In Viet Nam, nearly 40,000 civil servants quited their jobs in public sector, primarily in education and healthcare, during January 1, 2020 to June 30, 2022.
On July 1 this year, the minimum wages of employees who work under labor contracts increased by 6 percent. The increase varies from US$ 140 to US$ 202 depending on the living expenses in their particular region.
The Ministry of Finance said in the face of high inflation risk, the reform of salary policy should be carried out cautiously and in harmony with the objectives of socio-economic management in general.
January is close to the festive season with the New Year and Lunar New Year, so the demand for shopping and buying goods and services increases sharply. If the wage increase is implemented at this time, "it will put more pressure on price management because the psychology of increasing wages is accompanied by price surges, making it difficult to control inflation.
Thus, the Government proposed not to implement Resolution 27 of the National Assembly on the reform of salary policy for civil servants, public employees, the armed forces and workers of enterprises in 2023.
Instead, the Government suggested increasing the base salary for civil servants and public employees by 20.8 percent to VND 1.8 million per month from July 1, 2023.