EVFTA offers tremendous room for Viet Nam-EU trade growth
VGP - Viet Nam gained US$127.5 billion from exporting commodities to 27 EU Member States over the last three years since the EU-Viet Nam Free Trade Agreement (EVFTA) became effective on August 1, 2020.
August 01, 2023 7:15 PM GMT+7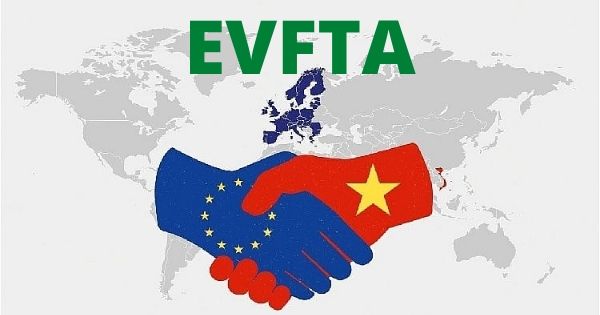 The EVFTA was inked on June 30, 2018 and approved by the National Assembly on June 8, 2020.
It is the fourth FTA the EU has inked with a country in Asia, along with Japan, South Korea and Singapore.
Commitments relating to trade and investment outlined in the EVFTA are expected to contribute to attracting European businesses and investors to expand their activities in Viet Nam, thus further promoting trade and investment cooperation.
With the elimination of 90 percent of tariff lines between Viet Nam and the EU over a period of seven years, many Vietnamese industries have gained an advantage of reduced import costs for materials for production, thus improving the competitiveness of enterprises joining the global value chain.
The Center for World Trade Organization (WTO) and International Trade, under the Viet Nam Chamber of Commerce and Industry, reported that the proportion of Vietnamese enterprises that have benefited from the EVFTA is very positive, with over 40 percent saying they have enjoyed at least some benefit from the EVFTA.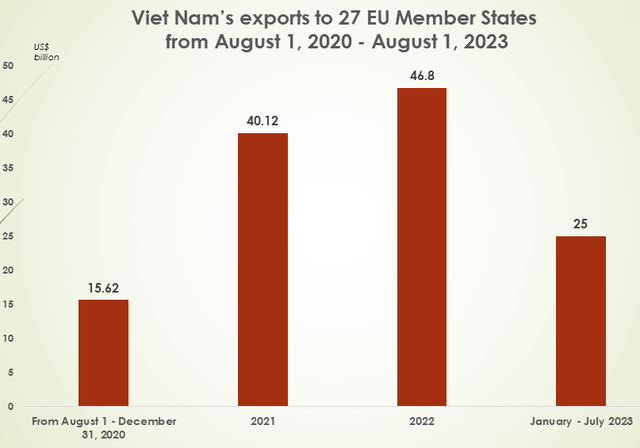 Last year, Viet Nam exported goods worth US$46.8 billion to the EU, up 15 percent against the previous year.
There are nine items, including phones, computers, textiles, footwear, machinery and equipment, coffee, aquatic products, iron and steel of all kinds, means of transport and tools, with export turnover of over US$1 billion, an increase of one item compared to 2021.
Meanwhile, in 2022, US$12.2 billion worth of goods were granted the certificate of origin (C/O) form EUR 1 to enjoy preferential tariffs under the EVFTA, making up nearly 26 percent of the total export value to the EU.
A total number of 10 EU markets with import turnover of Vietnamese goods from US$1 billion or more was recorded in 2022. The Netherlands and Germany were among top biggest importers of Vietnamese goods with US$7.6 billion and US$7.3 billion, respectively.
Due to negative impacts of the global economic downturn, the bilateral trade hit US$33.6 billion over the last seven months of 2023, of which Viet Nam's exports to the EU reached US$25 billion, down 9.9 percent./.