EVFTA to create 146,000 more jobs for 2022-2025 period
VGP - It is forecasted that an additional 146,000 jobs will be made for 2022-2025, thanks to the EU-Viet Nam Free Trade Agreement (EVFTA) implementation.
November 24, 2022 9:29 PM GMT+7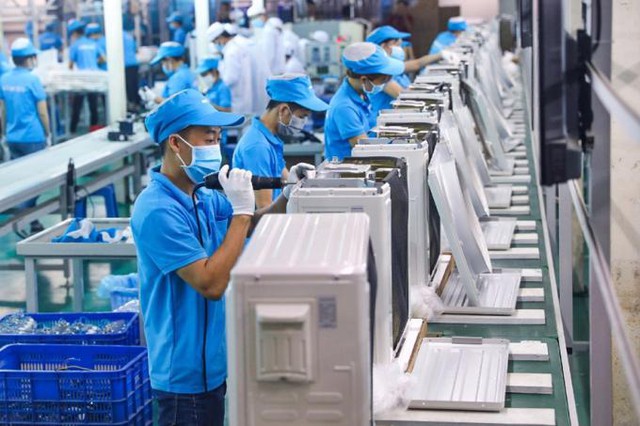 The above figure was shared at the Workshop to assess the impact of EVFTA on labor and employment issues, organized by the Ministry of Labour, Invalids and Social Affairs (MOLISA) on Wednesday afternoon .
Director of the Center of Information, Strategy Analysis and Forecast, Institute of Labor Science and Social Affairs (MOLISA), Pham Ngoc Toan, said that Viet Nam's labor and employment tended to increase in the period 2012-2019 and began to decrease in 2020 due to the Covid -9 pandemic.
However, when the pandemic was under control in 2022, many jobs were created in the industry providing goods and services for the export industry to the EU.
Additionally, the proportion of employees participating in social insurance after the agreement was signed (quarter 3/2020) increased compared to before the agreement came into effect.
The reduction in export tax rates had a positive effect on increasing the average wages of workers. After the EVFTA came into effect, the average salary of employees increased by 11 percent.
Besides, compared to other regions, the average salary of workers in the import-export sector from EVFTA countries was about 17 percent to 28 percent higher than that of other regions.
However, the trade deal's positive effects on labor and employment significantly reduced due to the outbreak of the Covid-19 pandemic.
Pham suggested Viet Nam should assess and forecast the impact of EVFTA and other free trade agreements every year, strengthen labor demand forecasting, and focus on training high-quality human resources.
Additionally, businesses need to invest in people, science and technology and expand export markets, looking for niche markets, join the production chain to take advantage of opportunities from EVFTA, and strengthen compliance with labor laws and international labor standards./.