Development orientations for Red River Delta through 2030
VGP - The Red River Delta region's GRPD per capita is expected to reach VND274 million (more than US$11,000) by 2030.
November 29, 2022 3:21 PM GMT+7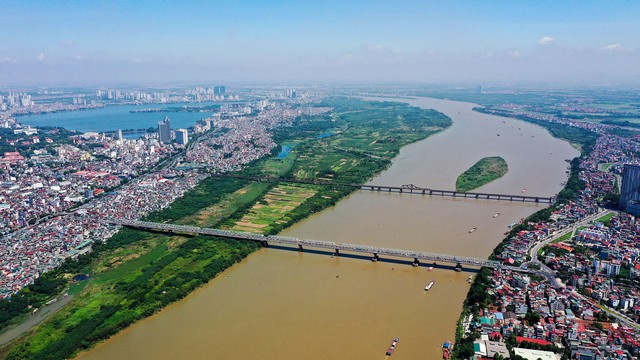 The Political Bureau has issued Resolution 30-NQ/TW on the directions for economic-social development and ensuring security and national defense in the Red River Delta region until 2030, with a vision to 2045.
From now to 2030, the region should promote fast and sustainable development, focusing on developing modern industry and service sectors and high-tech, organic, green and circular agriculture.
The Red River Delta region strives to become the nation's high-quality human training and education hub, taking the lead in science-technology development, innovation, digital economy and digital society with synchronous and smart socio-economic infrastructure.
Besides, the region must handle issues relevant to environmental pollution, traffic jams and flooding.
The Resolution sets the target that the region will achieve an average GRDP growth of 9 percent per year from now to 2030.
The agro-forestry-fishery sector will account for 3.5 percent of the region's GRDP. The industry-construction sector will make up 47 percent while the service sector will account for 41 percent.
In the 2021-2030 period, labor productivity will increase to 7 percent while the Total Factor Productivity (TFP) will contribute about 55 percent of the region's GRDP.
The digital economy will make up 35 percent of the GRDP, according to the Resolution.
The urbanization rate will increase to at least 35 percent. All of the communes will meet new rural standards, half of which will be recognized as advanced new-style rural areas.
Key tasks
In a bid to realize the above targets, the Resolution figures out key tasks as follows:
(1)- Perfecting institutions and development policies and promoting regional linkages

(2)- Promoting regional economic development
(3)- Developing sustainable urban system and modern socio-economic infrastructure
(4)- Fostering science and technology development, innovation, digital transformation
(5)- Enhancing education and training, improving the quality of human resources
(6) - Developing culture-society, upgrading people's living standards
(7)- Effective management and use of resources, environmental protection, adaptation to climate change
(8)- Ensuring national defense and security, improving the efficiency of foreign affairs
(9)- Strengthening Party building, rectification and political system
The Red River Delta region consists of 11 localities namely Ha Noi, Hai Phong, Quang Ninh, Vinh Phuc, Bac Ninh, Hai Duong, Hung Yen, Thai Binh, Ha Nam, Nam Dinh and Ninh Binh.
During the 2005-2020 period, the region reported the annual growth of 7.94 percent. In 2020, the region's GRDP per capita hit VND103.6 million (nearly US$4,200), 1.3 times higher than the nation's GDP per capita.