BLANK2Y becomes Honorary Ambassador of Korean Tourism in Viet Nam
VGP - BLANK2Y, a boy group made up of nine Korean members, has recently been appointed as the Honorary Ambassador of Korean Tourism in Viet Nam.
July 11, 2022 8:10 PM GMT+7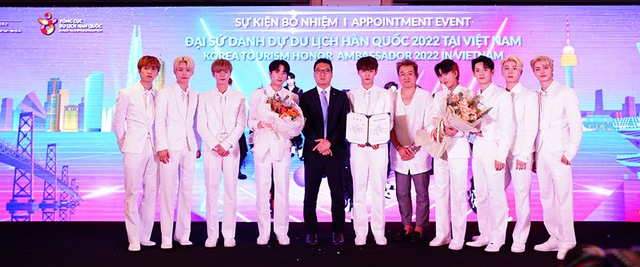 The move aims to promote Korean tourism through the image of the new ambassador, especially to Korean music fans in Viet Nam.
BLANK2Y made their debut on May 24 this year and consists of 9 members aged 18 to 24, who are active in Korea and around the world.
BLANK2Y will be Honorary Ambassador of Korea Tourism in Viet Nam for a one-year term, from July 9, 2022 to July 8, 2023.
The group will be involved in KTO's activities to promote Korean tourism through K-pop, the highlight of which is the "Korean Days in Ha Noi", the biggest Korean tourism promotion event to open in Ha Noi in November.
Lee Jae Hoon, chief representative of KTO in Viet Nam, said in Viet Nam there is great interest in K-pop as well as the Korean culture. Therefore, in the coming time, together with BLANK2Y, the KTO plans to actively promote tourism through "Hallyu" targeting young people, he added.
The RoK is one of the major tourism markets of Viet Nam. In 2019 before COVID-19 broke out, Viet Nam welcomed about 4.3 million Korean tourists, up 23.1 percent over the previous year, making the RoK the second largest tourism market of Viet Nam.
In 2020 and 2021, the COVID-19 pandemic posed adverse impacts on the global tourism sector, including tourism of Viet Nam and the RoK. After COVID-19 is put under control, from June 1, 2022, the RoK Government has worked to promote the recovery and development of tourism, including MICE tourism.
At the same time, Viet Nam has fully reopened its tourism since March 15. In the first five months of this year, international arrivals to Viet Nam reached 229,000, 4.5 times higher than that in the same period last year, including 56,500 from the RoK, a surge of 334 percent compared to the same time in 2021./.